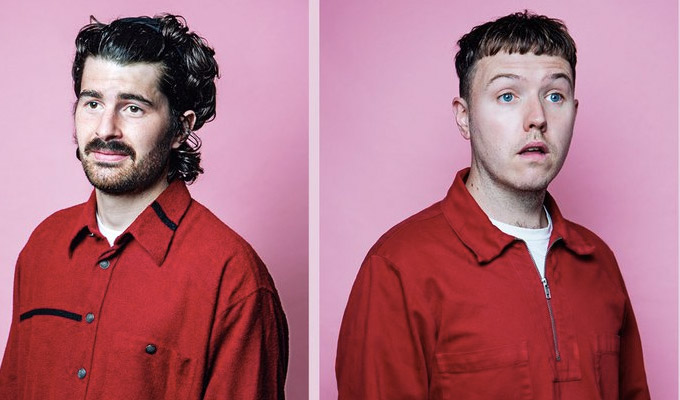 Ay Up It's Stand Up: Paddy Young & Adam Flood
These two newish comics must be doing something right, packing out their sizeable Three Sisters venue in an off-peak timeslot.
Opening act Adam Flood is a solid but rather too safe club act with a keen interest in market research… at least judging by his technique of prefacing literally every gag by asking the audience to cheer if they identify with the premise. It might pull their attention, but it's a lot of admin that slows down the gag rate.
Some topics are old-hat, too. For example, he does a bit about automated cinema booking lines not understanding his family's thick Stoke accent. But since when did cinemas use such technology? He could have at least made it Alexa.
Flood quips about his haircut, speaks of the reaction to telling people he does stand-up, impersonates a train announcer – all funny but forgettable. It could be almost anybody saying this.
Occasionally he displays a more appealing contrarian streak, such as suggesting opening up about mental health isn't all bad, or confessing to being a homeowner, which must make him unique among his peers.
Already quite a dynamic performer, he has a couple of impressive act-outs which raise the game further. All-in, it suggests a comic on top of all the performance techniques, but isn't pushing himself much when it comes to material.
Paddy Young is a much appealing prospect on that front, with a distinctive line in absurdity, loosely anchored in real life.
He starts with some offbeat impersonations such as 'anyone before the 1930s when they see a ship', before moving on to discussing his horrible housemates – especially the juggler whose very existence he resents with intense pettiness.
A strong sense of silliness pervades in the offbeat scenarios peppered with distinctive one-liners. Sarcasm-laden chats to the audience also throw up some spontaneously witty moments, lending a looseness to an otherwise cleverly scripted set.
This is the third time he's been on a shared Edinburgh bill; a strong debut must surely be imminent.
• Ay Up It's Stand Up: Paddy Young & Adam Flood is on at Laughing Horse @ The Free Sisters at 4.30pm until August 29.
Review date: 26 Aug 2021
Reviewed by: Steve Bennett
Reviewed at: Laughing Horse @ The Free Sisters
Recent Reviews
What do you think?