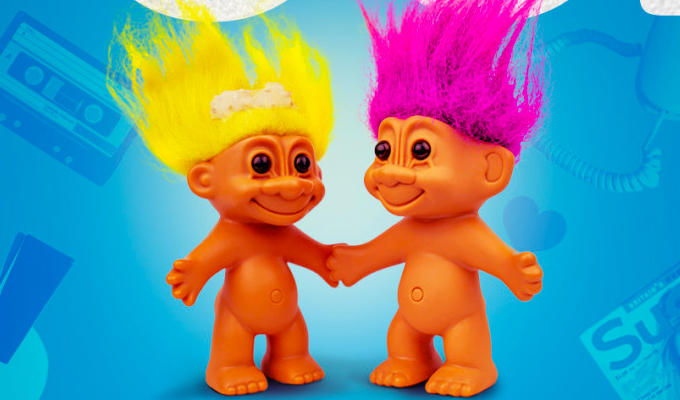 Lovefool
After the strains of a failed IVF attempt brought her 20-year relationship to an end, Rachel E Thorn found herself back living in her old bedroom at her mum's house.
Surrounded by the relics of her teenage years, she steeled herself to plunge into a dating world she had never properly experienced. Luckily she now had some back issues of teen magazine Sugar to hand – and the lyrics of some 1990s bangers – to guide her back through the labyrinth of love.
That's the premise of this elegantly constructed and performed one-woman show. Well, one woman and six dolls as Thorne has plastic stand-ins for the key players: her ex, her mum, her best pal and her toddler, and a co-worker who is the first man she starts dating after her divorce.
The naive, well-meaning or ineffectual advice doled out to 15-year-olds back in the day is affectionately mocked, although the point is subtly made about how the seeds planted then have formed the adult now. Likewise, her visions of how to be a modern singleton are drawn from Bridget Jones or Sex And The City, and they seem inadequate too. That said, Alanis Morissette DOES have the perfect angry rejoinder for her ex when he finds a new girlfriend.
Lovefool is an insightful and frank twist on the romcom, told with a lightness of touch and a wry wit. Thorn variously describes her IVF, the loss of romance when sex becomes purely about baby-making, dating apps, corporate bullshit, fragile male egos and the folly of settling for a mediocre relationship out of fear of being alone.
She makes a strong connection with the audience, and her eloquently written story is effortlessly relatable. Nineties references elicit ripples of recognition, but nostalgia is sensibly just a garnish to the show, not its everything.
The humorous account features a generous smattering of delightfully witty turns of phrase, although for a comedy, it's only occasionally laugh-out-loud. Lovefool may better fit the expectations of a show in the theatre section of the Fringe programme.
But you'll be rooting for Rachel through her ups and downs over this enjoyably satisfying hour, and the conclusion is quietly uplifting, despite - or maybe because of - its ambiguity.
• Lovefool is on at Laughing Horse @ The Counting House at 8pm until August 28
Review date: 20 Aug 2021
Reviewed by: Steve Bennett
Reviewed at: Laughing Horse @ The Counting House
Recent Reviews
What do you think?