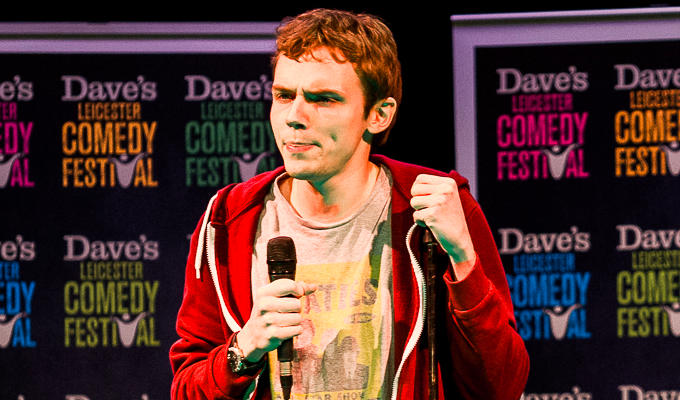 Tom Little Makes A Triumphant Return To Stand-Up
This is a title I can endorse. The antsy comic is back picking quarrels with all manner of matters, from crisp flavours to the so-called genius of Leonardo Da Vinci – and always from a unique perspective.
He's a well-read idiot savant, pulling in all sorts of facts, yet quite incapable of processing them in the same way as everyone else. It makes for distinctive routines, often revolving around him calling out his targets, even inanimate objects, as stupid. Sometimes it's because he's hilariously missing the bigger picture; sometimes it's because he sees a folly the rest of us have long taken for granted.
That's why he down on Da Vinci, not comprehending a simple picture of a woman can possibly be considered the greatest painting in history. But he does know that 'digestive' is a terrible name for a biscuit. The connections he makes are always idiosyncratic: linking vegetable crisps to homophobia, for instance, or reflecting on what could be done with all the iron in the human body.
His 2021 show is a mixture of new material and old – but he's never quite attracted the audiences he's deserved, so few will notice. And this would be the year to roll out the greatest hits to try to build that fan base.
His needlessly irritated diatribes sometimes culminate in an excellent punchlines out of left field – such as his discontent about a Metallica gig - but are just as likely to stand up as a stupidly overblown rant, all powered by his urgent nervous energy. Other bits still, such as the Family Fortunes outtakes, have the sense of an offbeat sketch.
There's nothing much linking all this – even he's embarrassed by his creaking segues – but it all exists in the same skew-whiff universe he inhabits, so that's the glue that binds. He's an inventive commentator with a keen sense for a good gag. I'd like to see that hack Da Vinci try to match that.
• Tom Little Makes A Triumphant Return To Stand-Up is at the PBH Free Fringe at 6.05pm until August 29, with additional shows at either 2.40pm or 4pm at Opium every day from Monday.
Review date: 20 Aug 2021
Reviewed by: Steve Bennett
Reviewed at: PBH Free Fringe @ Subway