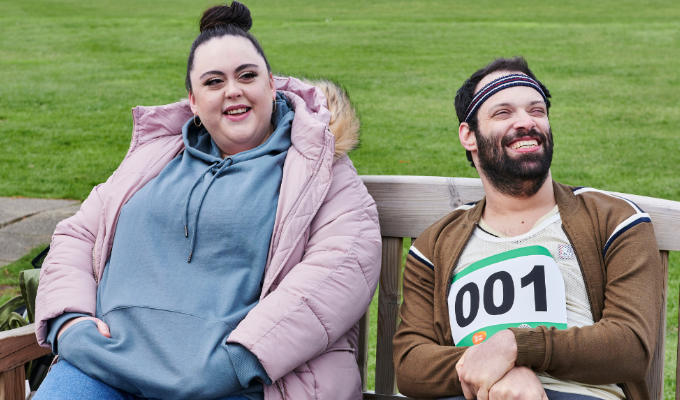 Jerk, series two
The commentary surrounding comedy in certain quarters these days always seems to revolve around how you 'can't say anything any more'.
Yet here on BBC One is a woman openly mocking a disabled man, as part of script that takes gleeful aim at the more pious elements of political correctness.
Tim Renkow's Jerk is a clear example that anything's up for mockery, just as long as it's done with clear, uncruel intention.
The physical limitations his self-titled character must deal with because of his cerebral palsy provide some great visual jokes. Meanwhile the whole premise of the comedy is that his disability gives him a free pass to screw with people – a premise nicely reprised with a pre-titles exchange at immigration.
That he's not just flawed but sometimes actively a dick is the core of the show: he's three-dimensional character not constrained to the usual dramatic templates of disability meaning only struggle or heroism.
The fictional Tim clearly gets this characteristic from, his mum, played by The Soprano's Lorraine Bracco. She also delights in saying the most outré thing – including mocking her son mercilessly over Zoom, but with love behind the superficially mean teasing.
Episode one of the new run unequivocally makes the woke the joke thanks to earnest student Bobbiey, a virtue signal in human form, who's ripe to be exploited by someone like Tim.
Played by Helen Monks from Upstart Crow, she's a 'pansexual who's not attracted to women' and who gets her kicks from the sense of superiority her entirely fraudulent empathy gives her.
The 'identify as…' joke at the core of this brisk 19-minute episode is a very familiar one, but it's an effective vehicle for a montage of things Tim can do now he identifies as 'able-bodied'. Plus the device gives us further permission to laugh at sensibilities Renkow and his co-writer Shaun Pye (himself the parent of a disabled daughter) attack from multiple directions.
There's fine supporting work from Sharon Rooney as the uncaring carer Ruth – probably a bit softer than her no-nonsense exterior will ever allow to show– and the Brett Domino Trio's Rob Madin as socially awkward Idris, who's attached himself like a limpet to Tim, who of course exploits his pal's good nature at every turn.
It's a strong ensemble that allows the broad comedy, and exaggerated characters to shine, while allowing the underlying humanity to peek through, too.
• The first two episodes of series two of Jerk are on BBC One at 10.35pm tonight, with all four episodes now available on iPlayer.
Review date: 2 Aug 2021
Reviewed by: Steve Bennett
Recent Reviews
What do you think?