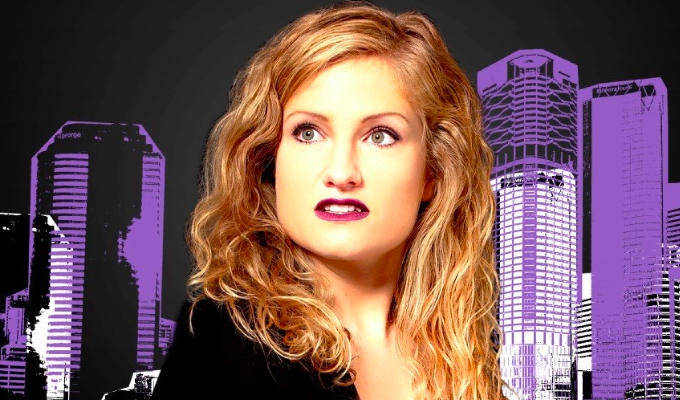 Tamar Broadbent: Stacey Solo - Strong Female Lead
How nice to kick off the festival season with a good fun belter of a show, a real pick-me-up.
There's no time for subtlety here, Tamar Broadbent has created a bunch of characters that make this cartoonish fun. Her narration of Stacey Solo, the hard-assed PI, has a Chandleresque tendency towards self-mythologising swagger, and the multiple characters including 'sweet assistant', 'creepy lawyer' 'disaffected son' and a gun- toting 'roo (you need to see it), are well-defined vocally. The baddies are bad, in a Dick Dastardly way, the goodies are sappy but redeemable.
There was no faff: this grips from the start, her transitions between characters are crisp enough and she has enough respect for the audience and her own writing not to pretend to get something wrong for a cheap laugh and an opportunity to fake-corpse.
The writing is a mix of old school panache, some Morecambe and Wise level 'boom-tish' bad jokes, which the audience just lapped up, quite rightly, and some tongue-in-cheek, sticking-it-to-the-man Twitter-feminism.
There is the smallest amount of seaside postcard vulgarity, which if it were dialled down even more would make this the holy grail of tea-time comedy shows to which you could take the whole family.
Stacey Solo is a polished hour of fun and silliness offered with skill, and excellent music to underpin the drama. It's a joyful mix of Hollywood movie tropes and very British wordplay.
Broadbent has presence and charisma to burn;she is compelling on stage. It's rarely that I leave a show thinking I could have watched another ten minutes, but this is that exception.
Review date: 2 Aug 2021
Reviewed by: Julia Chamberlain
Reviewed at: Above The Stag Theatre
Recent Reviews
What do you think?