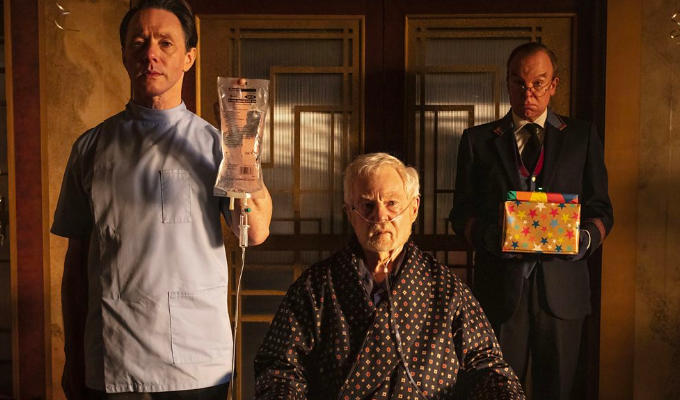 Inside No 9: How Do You Plead?
Reece Shearsmith and Steve Pemberton - or rather their director Guillem Morales - have given new meaning to dark comedy in this episode of Inside No 9, with its denouement played out amid the gloom of a midnight power-cut.
Quite what that climax is, I won't, of course, reveal, but the creators have been at this long enough to know viewers will be trying to figure it out, and are pretty good at keeping the secrets in the shadows.
Certainly you'll quickly suspect the relationship between the ailing barrister Webster and his oddly-named carer, Urban Bedford is more than it seems. Much of this episode is a sort of theatrical dance between the cantankerous, virtually bed-bound patient, too troubled by some incident from his past to celebrate his birthday, and his breezy, slightly fey, attendant trying to calm him.
Derek Jacobi becomes the first guest star to feature in two episodes of Inside No 9, having previously provided the voice of the director in the series three horror The Devil of Christmas. Needless to say, such a titan of the acting world revels in the chance to play up the foul-mouthed irascibility of his once-illustrious character, while Shearsmith proves his equal, doing that thing he does so well of hiding sinister undercurrents beneath a careful fussiness.
After dominating last week's episode with co-star Sian Gifford, Pemberton is content to play third fiddle here, as the operator of the clanky elevator that bring guests up to see the imperious lawyer.
With strong performances (again), jet-black humour (again) and disquieting tone of foreboding (again), How Do You Plead? continues Inside No 9's enviable track record of suspenseful, out-of-the-ordinary television. No wonder they won the Bafta last night…
Review date: 7 Jun 2021
Reviewed by: Steve Bennett
Recent Reviews
What do you think?