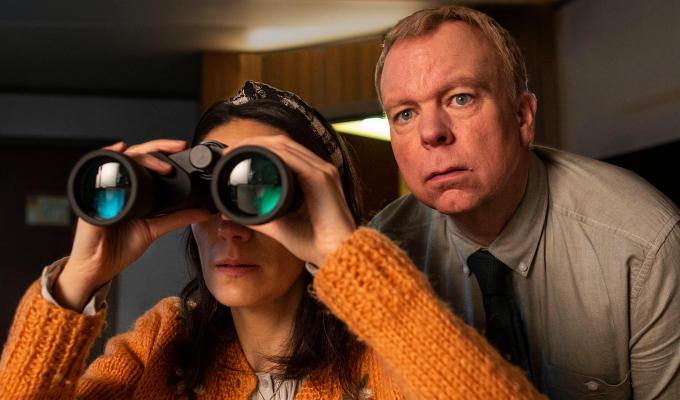 Inside No 9: Lip Service
One of the more subdued entries in the Inside No 9 canon, Lip Service takes place in a gloomy and uninviting hotel room where Felix, a sad data entry manager, is holed up.
He's there to spy on his wife, who's in a meeting in the hotel opposite, at No 9. Felix (Steve Pemberton) believes her to be up to no good with her boss so he's employed the services of an expert lip-reader, Iris (Sian Clifford), to find out exactly what's going on between them.
Projecting a nerdy, shy image, Clifford is far from her intense high-flyer of Fleabag or the ass-kicking survivalist of Sky's Two Weeks to Live. There's a tentative, stilted flirtation between these two awkward souls as they get on with the job in hand.
The comedy of this episode, shot in a naturalistic washed-out style, is as dry and as understated as the pair's hesitant encounters, with some wry lines about hotel kettles or the male counterpart to Mumsnet.
Meanwhile, the rapport between the actors that underpins this is neatly illustrated in a stand-out scene when they play out a unique conversation, backs to each other, as Felix takes a call from the woman they're spying on.
Reece Shearsmith offers some more overt comic relief, albeit of a disconcerting, teutonic variety, as stern and fussy hotel manager Eric Müller, forever interrupting his guest's privacy for such urgent business as checking the expiry date of the caramelised biscuits.
As is so often the case with this anthology, nothing is quite as simple as it seems, and it all builds up to a denouement that it's hard, if not impossible, to see coming. This is not one of those stories whose big twist is hiding in plain sight, but the revelations keep the narrative moving, despite the grim stagnancy of the hotel setting.
• Inside No 9: Lip Service is now on iPlayer.
Review date: 24 May 2021
Reviewed by: Steve Bennett
Recent Reviews
What do you think?