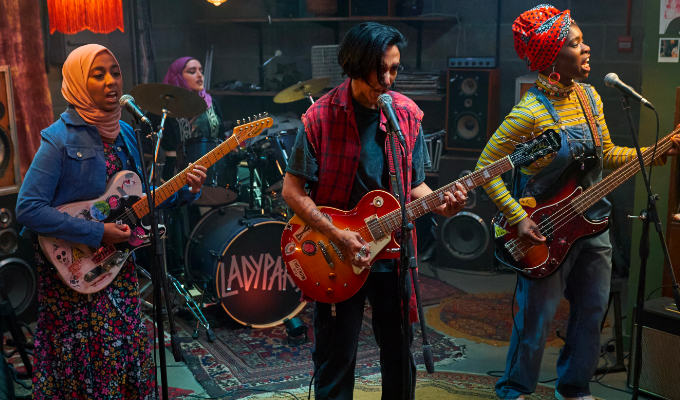 We Are Lady Parts
Simply by focussing on a group of Muslim women, We Are Lady Parts comes packaged with all sorts of cultural expectations about representation that no white suburban comedy would ever be laden with.
Creator Nida Manzoor has spoken in many promotional interviews about how this is a reaction to the mainstream notion that 'Muslim' is not a one-size-fits all identity. And in this bawdy comedy, her response to the stereotypes is to ignore them - save only for the occasional sarcastic joke at their expense. Instead she has concentrated on creating real, complicated characters in which cliché is haram.
The other strength of this story of all-girl punk band is the confidence to present these misfits to the world, warts and all, with the same ballsy swagger as the angry music they play.
Lady Parts is fronted by Saira (star-in-the making Sarah Kameela Impey), high on artistic drive and the purity of self-expression – but whose intense creative certainties go hand-in-glove with an emotional distance towards everyone else, especially her supposed boyfriend.
Her whole identity is wrapped up in the music, so when she decides their three-piece needs a lead guitarist, there can be no objection from her bandmates – the brilliantly intimidating drummer Ayesha (Juliette Motamed) and over-earnest earth mother bassist Bisma (Faith Omole), plus pragmatic manager Momtaz (Lucy Shorthouse), barely visible behind her niqab and the thick plumes of hash smoke that emerge through it.
Their very unlikely choice of guitarist is Amina Hussein (Anjana Vasan), a mild-mannered microbiology PhD student, physically averse to public performance and whose sole, desperate quest in life is to find a husband. She even considers, momentarily, a humourlessly devout suitor her embarrassing parents try to set her up with. Madhav Sharma, incidentally, makes the most of his precious few moments on screen as a great sitcom dad, cheerfully soaking up his wife's insults.
Ignoring all the weight of responsibility about representation, Lady Parts tells its own story with attitude and an occasional streak of exuberant silliness, erupting in fantasy sequences or, in episode one, a car karaoke scene that way out-rocks the Wayne's World original
The script goes off the boil a bit when focussing on Amina's ill-fated romantic life, which seems flat compared to the energy of the scenes involving the band. But across the board there are some sharp jokes, wild scenes, a story that draws you in and engaging characters – even the peripheral ones. The music's great too, and surely it wouldn't be long before we see Lady Parts doing real gigs.
Most crucially, the series is busting with a compelling, slightly erratic, verve that keeps you hooked. Anger is an energy, as one wise old punk once said.
• We Are Lady Parts is on Channel 4 at 10pm tonight, with all episodes then available as a box set on All 4.
Review date: 20 May 2021
Reviewed by: Steve Bennett
Recent Reviews
What do you think?