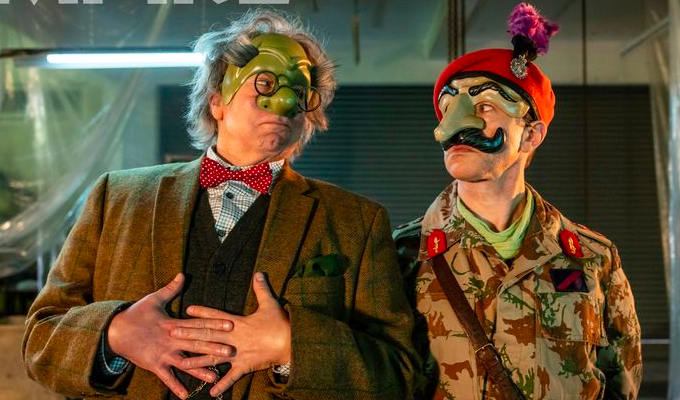 Inside No 9: Wuthering Heist
Six series in, and Reece Shearsmith and Steve Pemberton have lost none of their ability to surprise with Inside No 9. It must surely be a TV first for a primetime comedy show to be based on the medieval masked Italian theatrical tradition of commedia dell'arte.
The reason the characters are masked in Wuthering Heist is that they are plotting a £12million diamond robbery, and you can take that at erm, face value, without needing to know anything about dramatic history. Yet it's obvious from the heightened performances and peculiar beats of this enjoyably peculiar episode that the creators are drawing on something else. For this is no straightfoward thriller - as if 'straightfoward' ever had a place in the lexicon of Inside No 9.
Commedia dell'arte, a precursor to pantomime, was based on stock comic characters such as pompous old men, ever-starving servants and military men full of phoney bravado, all resurrected, in a fashion, here.
Breaking the fourth wall was all part of the 16th-century fun, too, with the players often confiding in their audience – a trick Shearsmith and Pemberton have embraced and updated with delight. Just a few moments in, and Gemma Whelan's Columbina (the servant savvier than her station might suggest, and one of the few characters not in a mask), turns to the camera to explains the mash-up premise and that 'it's quite clever in a way… but still sounds like something a drama teacher would have a wank to'.
She's soon put in her place with sharp rejoinder – and a pointed reminder that the tricks which have won acclaim for other recent BBC comedies aren't as original as they seem.
This ability for meta-gags, even deep in-jokes about the particular bulletin boards that will pick apart this episode line-by-line, makes Wuthering Heist one of the more jokey offerings of the Inside No 9 canon, with so many puns you'd think Tim Vine had been at the script.
Contrived misunderstandings, double entendres, corny Italian accents (courtesy of Shearsmith's soldier Scaramouche, leaning fully into the stereotype), physical comedy set-pieces, a love-triangle subplot… the script borrows liberally from all manner of comedy traditions.
By rights, the relentlessly jokey sensibility should grate, but – as we've come to expect from Inside No 9 - the tone is deftly navigated, done with apparently effortless charm and knowingness. Meanwhile, the Tarantinoesque robbery plot provides a real sense of jeopardy, not least from Paterson's Joseph's intensely menacing gang boss Pantalone. Despite all the daft quips, shit soon gets real. Credit, too, to Kevin Bishop for developing a pathos within his portrayal the fool, Arlo, which means the taut half-hour concludes in a satisfying emotional moment.
Wuthering Heist is another ambitious episode, bringing back Inside No 9 with a bang that should satisfy all the fans who have been eagerly awaiting it. Even, maybe, those on internet fan boards…
Review date: 11 May 2021
Reviewed by: Steve Bennett
Recent Reviews
What do you think?