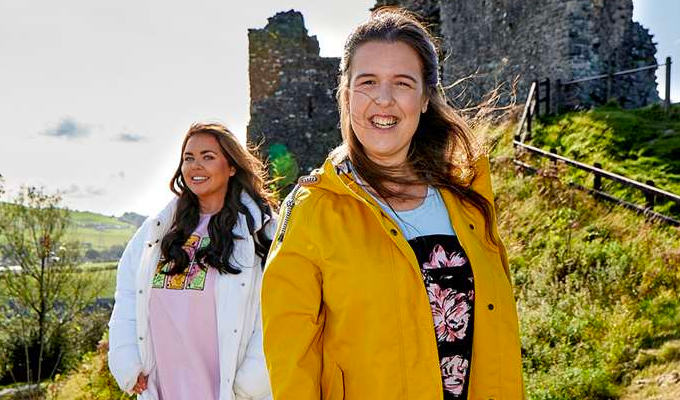 Trip Hazard: My Great British Adventure
The landscape of Britain takes a back seat to larking about as Rosie Jones becomes the latest comedian to embark on her own travel series. She is, in the words of Olivia Colman's voiceover, 'a disabled, northern Joanna Lumley' – though that's probably imbuing the stand-up with a classiness that's more aspirational than witnessed.
For as she travels the Lake District, Jones displays the comic sensibilities of a 14-year-old boy, gushing endlessly about 'boobs' when invited to channel the poetic spirit of Wordsworth or barely stifling giggles at every double-entendre that a Cumberland sausage-making sessions affords – which is plenty. In her mischievousness, she is egged on by her equally immature travelling companion, the erstwhile Gogglebox star and I'm A Celebrity champ Scarlett Moffatt. Not that she needs much encouragement, mind…
Jones's juvenile streak is endearingly silly, exuding a giddy joie de vivre throughout her adventures, as if she can't believe her luck that she's getting paid to do this. Trip Hazard is certainly a counterpoint to Richard Ayoade's (equally funny) arch detachment in Channel 4's well-established short-break stalwart, Travel Man.
In their breezy Cumbrian escapades, Jones and Moffatt get carried away with a Viking re-enactment, even if they don't see the point of it, test the patience of that artisan sausage-maker - (as well as the breaking point of his antique equipment), drive a century-old traction engine, and pay an extortionate amount of money to sleep in a stable. But at least they got to order pudding for breakfast – a perfect metaphor for the sweet, cheeky pleasure this half-hour offers.
Travel sequences, gorgeous drone shots and sly gags in Coleman's script are interspersed with a few skits with Rachel Stubbings playing a stereotypically out-of-touch TV executive who commissioned Trip Hazard, and Tom Allen undermining his affable, erudite image. As a former researcher at Channel 4, Jones knows this world - but like everything in this show, it's teased with an infectious affection.
And that's why spending half an hour in her enthusiastic company – wherever in the UK that happens to be - is such an easy delight.
• Trip Hazard: My Great British Adventure is on Channel 4 at 8.30pm tonight.
• Read an interview with Rosie Jones about the show
Review date: 9 Apr 2021
Reviewed by: Steve Bennett
Recent Reviews
What do you think?