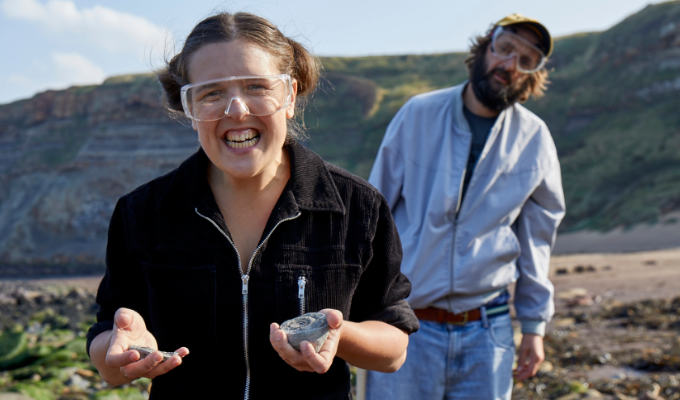 Many of us slag off our country, but actually, it is beautiful and amazing...
Rosie Jones's UK travelogue Trip Hazard: My Great British Adventure, comes to Channel 4 this Friday. Here she talks about the show....
Tell us about Trip Hazard...
It's about me, who loves travelling, but at the moment I can't really travel because of the pesky pandemic. So, always an optimist, I reckoned I could have as much of an adventure right here in Britain. So it's going to places that aren't necessarily holiday locations - like Norwich - and just finding the best out of that place. It's full of adventure and positivity, and it's making the most of this amazing, beautiful country we live in.
Did you enjoy getting out and about in a year when we've been so confined?
So much. During lockdown one - it's so weird that we now have numbered lockdowns – so lockdown one, I spent with my mum and dad in Yorkshire and it was nice, I was glad I was up here rather than in London. To then go from five months of isolation to zip-wiring over a quarry in Wales, it was incredible. I always love adventure, but especially after five months doing nothing I was taking every adventure like it was the first thing I've ever done. It was like, 'we're back, baby!' and then lockdown two happened…
Why did you choose the locations? Do you have a favourite?
We went to Whitby because I'm from Bridlington and that's really where this idea started. I grew up in a little seaside town that I thought was absolutely rubbish and I couldn't wait to leave. But coming back for lockdown, I appreciated it a lot more and I would take walks by the beach and go 'it's all right, this'. So that was the starting point and then I just wanted to find other places in Britain you wouldn't really expect to be fun and beautiful and just making the most of it.
I actually think my favourite episode was Anglesey because that was the first one we filmed and, narrow-minded I know, but when I was packing for Wales I was like I need umbrellas, raincoats, jumpers, waterproof trousers, a snorkel, everything. But for the entire time we were there it was bright sunshine and breathtaking views. I thought 'yeah, that's why we're doing this show,' because many of us are guilty of slagging off our country, but actually, it is beautiful and amazing.
How did you decide which celeb pals would come with you?
We picked them because we wanted them to be the yin to my yang. We wanted to take people who would be like 'why are you taking me to Norwich? I don't want to be there. Rosie turn it down, you're too loud, stop talking to me.' All four of them, and they might have been lying to me, but by the end of the trips, all of them were like, 'I didn't want to, but I've had a lovely time!' It was a challenge for me to win them round.
Joe Wilkinson joined you in Whitby but he was quite reluctant wasn't he, especially with the fossil hunting?
Those fossil scenes sum up the whole series because Joe got there and was like 'Where are we? Why have we got hammers? What are we doing?' But we really got into it and when he found a fossil, he was genuinely so pleased and so happy. Finding something millions of years old in this country just on the beach, he really got into it. Secretly, I was so pissed off, I wanted to find it, not him! It's my show!
And Norwich with Jamali Maddix looked a lot of fun...
I got quite drunk. We were drinking this old cocktail and what I don't think is actually in the show is that it was 9am, and it went straight to my head. And the wine tasting, I'll be honest, it just tasted all of wine and you can slowly see me go, fine, fine, fine, DRUNK! I got a bit giggly.
And Olivia Colman narrates the series, which is quite the coup!
We had a meeting and knew we wanted a voiceover. The producer said 'Right, imagine no one's off limits, who do you want?' And I said Olivia. He said: 'We're not going to get her.' She's just a hero and I love her energy and her humour so much, so I just said, 'Ask her, even if it's a no email, I will literally frame that no email!'
But she came back and she said: 'I love Rosie, I'm a big fan, I'll do it.' Honestly, I've just taken a permanent residency on cloud nine because of that. And when you watch it, hearing her funny, beautiful and slightly judging voice of me, is just brilliant. For her to be a massive part of the show is just mind-blowing.
There's also a scripted element to the series featuring your fictional commissioning editor. Why did you want to include that?
I love telly so much and I used to work in production. I've had a lot of interaction with commissioners and most of them are incredible and they just elevate ideas and they're brilliant. But you do get the Saskias of the TV world who make you go 'Have you watched television? Do you know what TV is?' And we just thought it would be a lot of fun for the viewers to get a peek behind the curtain. Being a writer and comedian with a background in TV, it felt quite fun for me to explore that side.
W would you recommend people visit this summer? Should everyone go to Norwich?
Yes! And I'll see you there! It sounds like I'm making it up but, honestly, every episode, go there. Go to Anglesey, go to Whitby, go to the Lake District and end your massive tour in Norwich because all four places were beautiful and had their own merits.
It was a shame we didn't have enough episodes and if there's a series two, we never even explored Scotland or Ireland, or the south, I'm a massive fan of Somerset and Bath is beautiful...
If there was a second series, would you stay UK based then?
Even now, I'm not sure we'll be able to travel abroad but, certainly, I think there are still enough places in the UK to explore. By series eight, I'm sure I can be persuaded to explore South America but, for now, I'm staying safe and there's more than enough of the UK to explore.
What does the rest of the year look like for you, what else have you got coming up?
For now, I'm taking each day as it comes. I'm lucky enough to have a lot of writing work coming in which I can do from home. I've written a children's book, called The Amazing Edie Eckhart, that will be out in August, so worst case scenario I'm going to spend the rest of the year writing, doing online gigs, doing Covid-safe recordings but I'm hoping by the summer we'll be able to gig again.
And, hopefully, if the Paralympics happen, I might be going to Japan for a few weeks. I'm taking each day as it comes but I'm very grateful to still be busy, paying rent and happy.
• Trip Hazard: My Great British Adventure, is on Channel 4 at 8.30pm this Friday, with all the episodes going on All4 once the first airs.
Published: 6 Apr 2021
What do you think?