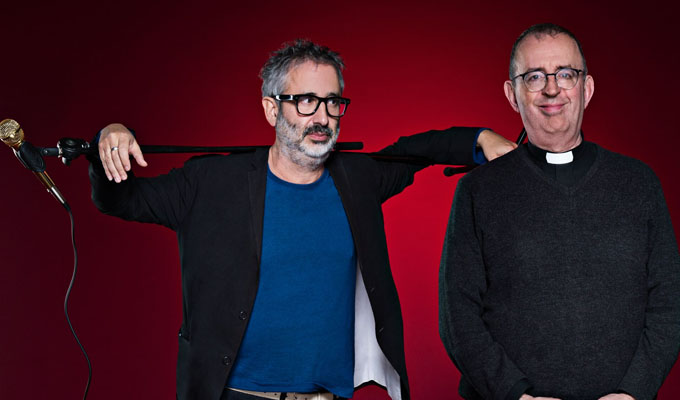 Stand Up And Deliver
The news that celebrities would be trying their hand at stand-up on TV was initially greeted with rumblings of discontent among some comedians. Why should these famous amateurs be given air time when established practitioners can barely work, was their understandable complaint.
By its nature, Stand Up And Deliver has to overlook the years, if not decades, of gruelling work it takes to become a skilled comedian. But the show demonstrates a respect for the craft, will spark more interest in live comedy, and gave work to the five comics who acted as mentors – all of which are strong counter-arguments to those initial concerns.
Essentially, this is the Great Celebrity Joke Off for Stand Up To Cancer. There's no pretence that these famous names are instantly going to be anything other than talented amateurs at best. But like its baking counterpart, the fun is in watching the process.
Producers have been savvy in the celebs they've chosen, too. As usual, they've spanned different fields and age ranges to broaden their demographic. But also stand-up aficionados might notice that they all encapsulate different archetypes of the bad open-spot newbie.
Happy Mondays frontman Shaun Ryder is the naturally funny guy with zero discipline; Love Island's Curtis Pritchard has the sort of geezerish banter that flies down the pub but flounders on stage; former Coronation Strewet actress Katie McGlynn is a bag of nerves; while Rev Richard Coles and Baroness Warsi are used to public speaking, but have a wall of reserve that limits the amount of their real personality they allow to be exposed.
The mentoring addresses these comedic shortcomings head-on. Lyons constantly reassures McGlynn that to this day she's nervous about performing, while Judi Love is visibly unimpressed at some of Pritchard's performative shenanigans. Whether they can overcome their instincts is the key.
Jason Manford faces the most exasperating challenging in trying to persuade Ryder that he needs to plan, and can't just busk it. It turns out the musician's lack of focus is down to ADHD, and not the industrial quantities of chemicals he consumed in the 1980s and 1990s, but that doesn't stop Manford struggling to retain his usual laid-back composure when dealing with such a wayward pupil.
There's some better-natured tension between David Baddiel and former Communards musician Coles. The atheist comic wants the Church of England vicar to adopt his own iconoclastic, sweary style… but Coles has both immutable standards and a fear of losing his job that causes friction.
But much bigger tension exists between Nick Helm and Warsi, with the vehemently left-wing comic bluntly telling the former Minister from the very start that he doesn't like Tories.
He, too, seems to want to turn the strait-laced politician into a version of himself, with aggressive, shouty swagger that's anathema to her lifetime of political conditioning. That, as a socially conservative Muslim, she was prepared to lean into his intensity, trying to unlock something more primal in her comedy, is quite the revelation – and will surely win her a lot of admiration, even if you don't like her politics.
The celebrities had two weeks of training before facing a socially distanced audience in the beautiful faded glory of Battersea Arts Centre in South London. 'It's for a good cause,' we're constantly reminded – a cue, perhaps, to lower our expectation for their performances.
We'll review their individual sets once the second episode has landed on the All 4 streaming service, straight after the opener airs on Channel 4 at 9pm tonight. But suffice it to say, their tentative journey into stand-up reveals something about all of them, as well as offering some insight into how any comedian must consider their sense of self, and how they project that on the stage. Interesting stuff…
Review date: 25 Feb 2021
Reviewed by: Steve Bennett
Recent Reviews
What do you think?