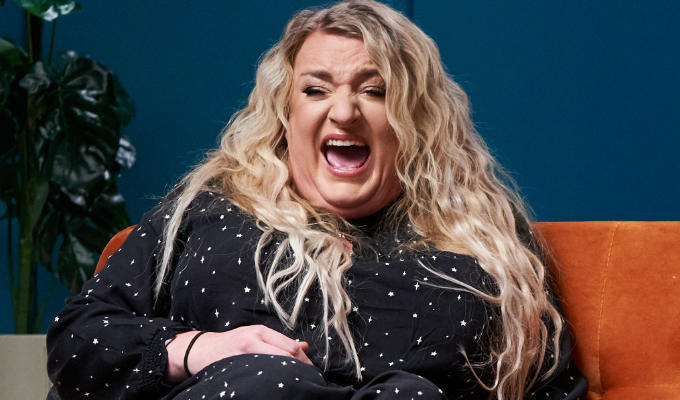 Dating No Filter
Dating No Filter is programming by algorithm. Dating shows are popular. Gogglebox is popular. Put them together, crank the handle, and out comes this format: armchair critics commentating on first dates as they unfold.
Even the pairing of the potential couples is done by the reality TV guidebook. 'People might think I'm slightly cocky,' says buff personal trainer Sami, moments before his date Nicole lists her turn-offs as anyone who's 'cocky, arrogant…'
The twist here, though, is that it's comedians such as offering the commentary on the two first dates in each show. In frankness, the comic's exaggerated 'OMG!' reactions to the unfolding drama often isn't much more than you'd get from a Gogglebox contributor… though you could probably just screen Daisy May Cooper laughing for half an hour and it would be one of the most entertaining shows on TV.
Yet they also contribute the occasional pithy word of wit that shows off their trained comic instincts. Cheerfully mocking Joel Dommett and the frank-speaking Judi Love are particularly good value in this opening episode, paired with Tom Lucy and Munya Chawawa respectively.
The programme's success, however, depends more on how much viewers invest in the outcome of the dates than on any sarcastic comments from the sidelines, and it's easy to get drawn into Dating No Filter's psychodramas.
It's a cliché that almost anyone who takes part in a reality show like this loves themselves a bit too much… but true to genre tradition, producers keep you guessing as to who's got a likeable core behind the irritating peacocking. That means you can even feel sorry for vain, shallow, beard-comb-obsessed Sami in this first episode. However, the feeling's short-lived, before he puts his foot in his mouth once again.
Talking about foot-in-mouth; that's exactly how fetishist Lewis wants his date to end - but you'll have to watch this entertaining if undemanding serving of popcorn TV - a British remake of a show that originally aired on America's E! network - to find out if that happens.
But the most surprising moment? The revelation that Joel Dommett employs a professional company to come round to his house to clean his trainers. Who says fame's changed him?
• Dating No Filter is on Sky One at 10pm tonight.
Review date: 25 Feb 2021
Reviewed by: Steve Bennett
Recent Reviews
What do you think?