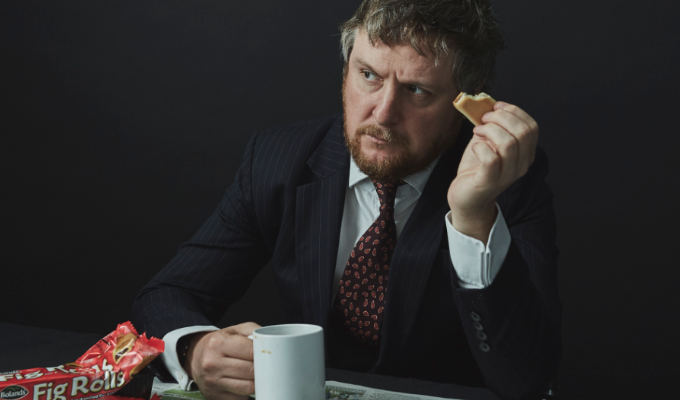 He Used Thought As A Wife by Tim Key
You never forget your first lockdown. However much you might want to.
However, Tim Key's new anthology of poems and conversations cuts through any understandable weariness about having these unusual times reflected directly back at us, as it captures the weirdest early months of the 'pando' in Key's perfectly idiosyncratic way
The collection, beautifully designed by Emily Juniper, may draw on such tropes as clapping for the NHS or obsessing about sourdough starter without ever seeming trite or overfamiliar.
Instead, He Used Thought As A Wife is primarily a compelling character study of his peevish poet persona at his most irritable, condescending and insecure. The jaunty bonhomie of his blokey middle-aged banter which he so accurately nails is tissue-thin, a passive-aggressive frustration scratching through every superficially jovial turn-of phrase.
Lockdown has him confined to barracks: filming cancelled, gigs outlawed. Living alone, he teeters on the precipice of a breakdown, though he remains steadfastly in denial about his abject loneliness and the effect enforced solitude has had on his creative output, every good intention upended by distractions such as Come Dine With Me on the telly or craft IPAs in the fridge.
It's a brilliant contradiction that writing about writers' block proves such a fertile ground. Very meta, all this description of mindlessly twirling his orange pen or dialogues with the long-suffering Juniper about the erratic supply of content for this title and how it should all be laid out.
But despite its pretentious title - all part of Key's careful exaggeration of artistic pomposity - the book never feels too clever by half. Each scene is a vignette of isolation in his London flat, the ennui only occasionally punctured with a Zoom call or delivery of an impulse Amazon purchase.
His admittedly unreliable recollections are a delight, despite, or possibly because of, the undertow of despair that he's trying not to confront. Key's decline is charted with a dry and ever-present wit, which frequently erupts into a bluntly funny line that elicits a hard, inappropriate laugh.
In between these dialogues, his delicious poems offer absurd exaggerations of an already absurd situation, with Britain's inadequate leadership lampooned with the sharply efficient eye of the best political cartoonists, especially the impatient, leader Bohnson full of empty bluster, his adoring acolyte, Moggeth, and the inevitable appearance of rule-bending Cumdawg.
These sit alongside short verses inspired by his personal reaction to lockdown, usually more wildly fanciful than the domestic drudgery depicted so realistically in the dialogues, and often told through the avatar of a fictional protagonist.
At his most playfully self-aggrandising, Key imagines himself as a modern-day Samuel Pepys only better ('He's a yawnfest, Em. He makes the Fire Of London sound as boring as sin, to be fair on him').
And to be fair on Key, this is a far more entertaining account of this plague: a rich source of perfectly observed, often laugh-out-loud humour than never shies away from the malaise, the melancholy, the isolation, the futility, the political incompetence and the uncertainty that has blighted the last year.
If one day we'll all look back on this and laugh, this is as good a place as any to start.
• He Used Thought As A Wife by Tim Key and illustrated by Emily Juniper is published is tomorrow, by Utter & Press, priced £15. It is available from Foyles and Waterstones.
Review date: 17 Feb 2021
Reviewed by: Steve Bennett
Recent Reviews
What do you think?