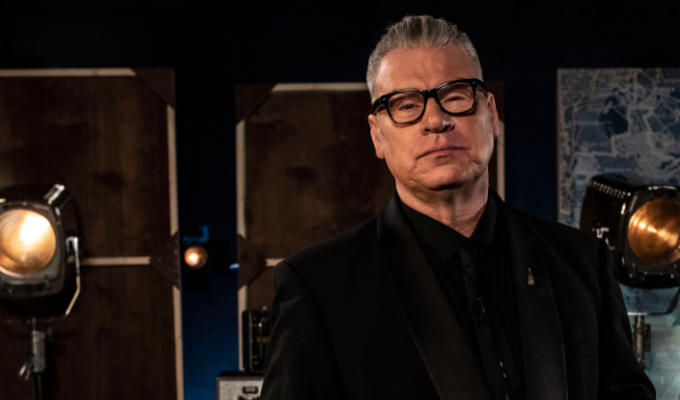 Mark Kermode's Secrets of Cinema: British Comedy
It will come as little surprise to anyone who's encountered Mark Kermode's film criticism on the radio or in print that his TV essay on British comedy movies is incisive, informed and intelligent, yet effortlessly accessible.
His celebration of the genre is impressively wide-ranging, from Chaplin to the Personal History Of David Copperfield via the likes of Ealing comedies, Carry Ons and the 'Three Flavours Cornetto' trilogy fronted by Simon Pegg. Breezy rom-coms like Bridget Jones's Diary nestle alongside grittier work such as Ken Loach's output.
Mark Kermode's Secrets Of Cinemas is essentially a classier breed of clip show, with both classic and lesser-known scenes skilfully weaved around a discussion half a dozen enduring cinematic themes, such as the 'little man' as central character – either plucky archetype like George Formby or those with petit bourgeois pretentious like Alan Partridge – to obsessions with class and manners.
Kermode, with fellow writers Kim Newman and John Das, take a wide view, drawing lines through history to show how comedy films have evolved to reflect social shifts or echoed earlier work. Often the screen is split to show parallels, such as how Wallace and Gromit parodied Hollywood or how the opening to Paddington can be likened to the Titfield Thunderbolt, more than 50 years previously.
On the subject of Ealing comedies, the change in tone from the jovial Lavender Hill Mob to the more sinister The Ladykillers is shown to reflect a hardening of British society over a few short years, as well as considering movies that have more directly addressed the state of the world, such as Chris Morris's peerless Four Lions.
Elsewhere, Kermode considers the difference between 'funny-clever' performers such as Alec Guinness, or Peter Sellers against funny bones like Kenneth Williams; or discusses how humour exposes unfunny prejudice, not always on purpose.
But he wears his erudition lightly, as indeed you must when considering the trope of 'getting caught with your pants down', while the treasure trove of excepts would be a delight even without this instructive commentary.
The scope of this thoroughly absorbing essay means you're certain to come away with a viewing list to of movies to track down or revisit.
• Mark Kermode's Secrets of Cinema: British Comedy is on BBC Four at 9pm tonight.
Review date: 11 Jan 2021
Reviewed by: Steve Bennett
Recent Reviews
What do you think?