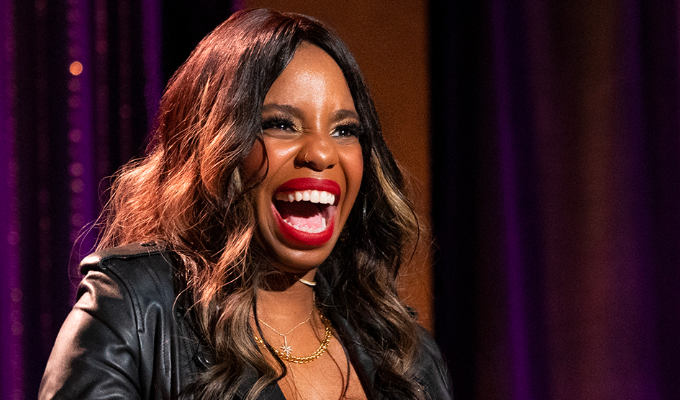 London Hughes: To Catch A D*ck, Netflix special
London Hughes is just a teensy bit less coy than the semi-censored title of her show suggests. For if you're going to be offended by the word 'dick' this is 100 per cent not the comedy special for you.
To Catch A D*ck is a bawdy, unfiltered romp through Hughes's eventful sexual history, from 50 Shades Of Grey role-playing to blow-job techniques such as The Seagull, enthusiastically acted out here; and from her tireless research into the stereotype that black men are well hung to dates with an Olympic boxer, a drug-addled investment banker and a generous foot-fetishist. Occasionally, she'll even sleep with a 'civilian' - but only out of charity, mind.
Every moment of this show is celebratory and sex-positive. Gleefully reclaiming he word 'ho', she he can lay claim, like Luisa Omielan before her, to being the Beyoncé of comedy: raucous, uncompromising and fun – while packing some seriously empowering attitude into her knob jokes.
If confidence was currency, Hughes would be Jeff Bezos. Her opening line is: 'I'm London Hughes and I'm really funny' - and latter boasts of her ambition to become 'the next female Richard Pryor'. She certainly shares his willingness that life should be an open book.
It is, perhaps, a living version of 'dressing for the job you want': act like a global comedy superstar for long enough and that will be your fate. Even in her first TV job, as a presenter on porn channel Babestation, was she working the angles, looking for a way to get spotted in the hinterland of the cable channels. And with this special, a movie, and surely more in the pipeline, Hughes is starting to fulfil that VIP destiny.
But there is a flip-side to this, which forms the crux of this special. She's successful, confident, good-looking and funny, all of which very shaggable traits in a man. Yet she finds herself woefully, perpetually single. And not for the want of asking.
The exposing of dual standards is a constant her material - even when sometimes those hypocrisies works in her favour. Coming from a male comedian, the idea of a woman Giving Head for shoes would almost certainly be sexist – but Hughes is very clear that she's perfectly happy with that deal. Like everything, it's on her terms.
Most tellingly, when she has to brazen out an odd situation in one of her typically wild anecdotes she tells herself: 'I need to carry myself with all the confidence of a mediocre man.' There are many such wise words on society's ingrained sexism here, casually tossed out in her force-of-nature delivery that sometimes leaves her short of breath.
Inevitably, that supercharged performance loses some of its potency through the screen – and the frankness might make for awkward viewing, depending on who you view it with – but the way she works and energises the Los Angeles crowd, boosting the women's confidence while teasing the men, nevertheless shines through.
Yet beyond the assured, raunchy swagger, there's a single-minded purpose, which will supercharge her assault on the American scene, kicking down its doors with this energetic special.
Review date: 22 Dec 2020
Reviewed by: Steve Bennett
Recent Reviews
What do you think?