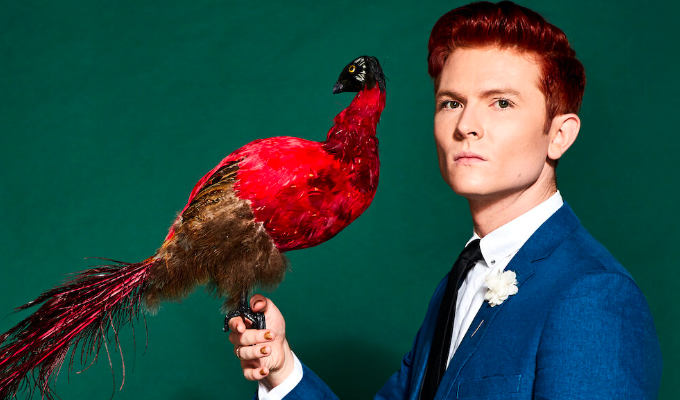 Rhys Nicholson: Live at the Athenaeum
Rhys Nicholson's first Netflix special starts with melancholic monochrome shots of the deserted streets of Melbourne, the camera swooping into the Atheneum Theatre, where the comic emerges on to the stage and the world springs into colour, in full Wizard Of Oz-style.
If you think this signals a comedian full of optimism and good cheer, think again. For Nicholson is an acerbically bitter and intolerant man, as clear as a well-cut diamond about what he hates – and just as hard and just as pointed when it comes to dismissing them.
Yet the glee with which he splatters scorn on the targets of his petty opprobrium is cathartically enjoyable. Quick-talking and supercilious, he packs his set with waspishly witty insults as precise as his exquisitely-groomed look.
Much of what he speaks about is the bread-and-butter of stand-ups everywhere: drug exploits, going to sex shops, settling into his ways at the grand old age of 29, hitting back at the online haters and the peculiar habits of parents.
The near-absence of any grander vision might hold this back from being a must-see special, but Nicholson is a superior comic performer – in both senses of the word – and this is a fine showcase for those well-honed skills. He has an instinctive sense of timing, rhythm and physicality – the latter showcased in an epic act-out of Skype sex that closes the show – but overwhelmingly this is a show built on pure haughty attitude.
Although much of the content is superficial, there are hints at a little more beneath that surface, as evidenced in his response to some 'constructive' hate mail from Carol from Manchester – who by rights should be called Karen. She demands he act like a more worthy representative of 'the gays', like her son. But why should he have to carry that burden?
If one adjective describes his stage persona, it would be 'self-serving', feigning intolerance for anything that might inconvenience his fixed ways. Some context that this harsh character is a shell for his insecurities is offered – but also the message is clear: he doesn't represent anyone other than himself.
The notion that we need a laugh now more than ever has quickly become a tedious cliché, whatever its roots in the truth. But if you're looking to put a little grit into the 'joy to the world' positivity this Christmas, Nicholson is your man. He's a Grinch, but jolly funny with it.
Review date: 21 Dec 2020
Reviewed by: Steve Bennett
Recent Reviews
What do you think?