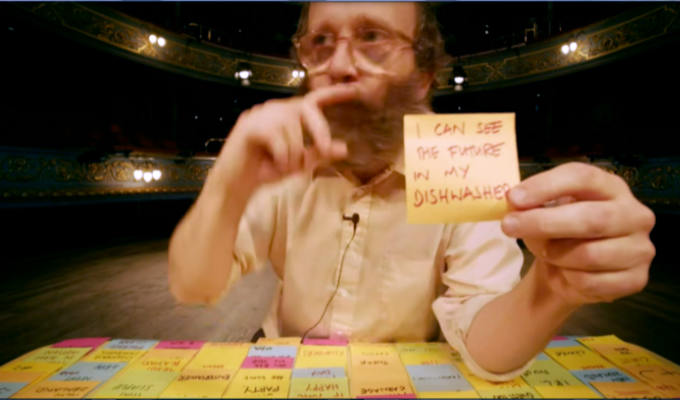 Daniel Kitson: Dot. Dot. Dot.
As if the world hasn't been knocked off its axis enough this year, here comes another shock… a show from Daniel Kitson that's – whisper it – not a must-see.
Dot. Dot. Dot. is a series of vignettes starting on March 4, a couple of weeks before the first lockdown, and coming up, more or less, to today. To share them, Kitson sits in an eerily empty theatre - this time, the beautiful Royal Lyceum in Edinburgh – in front of a static camera. Between him and us is a table full of ordered Post-It notes, each bearing a hand-written heading to prompt a memory.
The scenarios he describes will be widely relatable, for the pandemic has flattened all our lives into a similar shape. He encounters supermarket shelves emptied by panic-buyers, gets nervous about the defiant mask-deniers and suspicious of ostentatious displays of clapping for the NHS, starts baking bread in quantities he can never consume, has awkwardly distanced meetings with friends in person and family over video messaging, looks enviously from afar at the resuming normality in virtually Covid-conquering New Zealand, and plays football in his back garden, missing the camaraderie of his regular games but too anxious to get the team back together, even when the toughest restrictions pass.
What might once have seemed extreme situations are now only too familiar to us all, which robs these recollections of insight, even while they faithfully catalogue what life has become. His feelings about it all are, of course, elegantly and eloquently expressed with evocative phrase-making as he considers that 'the one thing worse than an empty gesture is some dickhead pointing it out' or 'the forgotten glory of hearing people you love pottering about in the other room'.
But, perhaps aptly for a show about lockdown, the emotional narrative goes nowhere much, with the exception of a touching tale about his changing relationship with the neighbourhood kids. They initially irritate him with their screaming in the street and knock-and-run games, until he forms some much-needed human connection with them.
His fiercely expletive-laden burst of misplaced fury at a sexagenarian old friend for not needing the help he seeks to offer is a hilariously splenetic moment, but for the most part Dot. Dot. Dot. has too little changes in texture to sustain watching one man in close-up for an hour and three-quarters. It's an unforgiving medium.
Kitson is very keen to downplay expectations of this show at this stage in its development. Despite a series of previews last week, he prefaces this full-price (£10) performance with a disclaimer about how he's not content with what he has, hoping viewers will be 'able to see why it might be good.' Echoes, perhaps, of last year's Keep, which he unveiled before he was entirely happy with it. That too, at least in early performances, got a bit too indulgently long-winded around a strong central premise.
Of course the simple joy of everyday human engagement – combined with brutal intolerance for the selfish – is classic Kitson territory, and there is much to mine here, from the denial of the former to the rise of the latter as people inevitably tire of the restrictions. If he can rebalance towards these themes, with a little less of the more everyday 'what I did in my lockdown' recollections, later shows in this peculiar tour could make even more of that old Kitson magic for language. If, of course, he's allowed to perform them.
Review date: 2 Nov 2020
Reviewed by: Steve Bennett
Reviewed at: Edinburgh Royal Lyceum Theatre
Recent Reviews
What do you think?