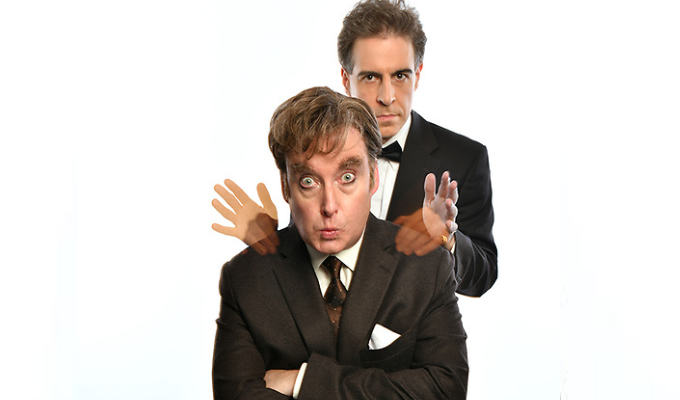 Howerd's End
Frankie Howerd may be the headline draw, but it's his long-term partner Dennis Heymer who finally gets his story told in this new play about their lopsided relationship. But no one would go to a show with his name in the title, which is very much the point.
Heymer was working as a sommelier in a cocktail bar when he met the shambolic comedian with a 'face like a camel on remand'. He'd been a fan for years, the comic's unconventional style inspiring him to live as free from constraints as the hilarious voice on the radio.
The only problem was that while Heymer was adventurous, outgoing and open about his sexuality, away from the stage Howerd was a crumpled sack of insecurities. Did he love himself? Oh no, missus. He despised his own body and was ashamed of his still-forbidden urges.
Yet Heymer, the proud extrovert, became subsumed by the famous, older stand-up, a man who once had such carefree ambition relegated to the shadows, only ever referred to elliptically as Howerd's 'chauffeur', 'factotum' or 'friend'. And how does it make you feel when the man you love wants to be 'cured' of the feelings he has for you?
This play, set in ghostly flashback at their Somerset home, Wavering Down, fizzes with interest when exploring their personal relationship. Mark Farelly, who wrote the play, is compelling as the conflicted but devoted partner, while Simon Cartwright, who's previously played Bob Monkhouse at the Edinburgh Fringe, well captures Howerd's torment as well as every twitchy on-stage mannerism in the snippets of stand-up we get to see. Titter ye lots in these moments, which involve a little playful, knowing to-and-fro with the audience.
The script, however, gets a little heavier handed when it lays on the existential introspection, starting when Howerd seeks a challenging therapist, regresses to childhood and poo-poohs the 'tears of a clown' trope. Howerd's End, like so many shows, is better when we see a relationship play out, rather than self-consciously dwelling in philosophical musings. But Howerd's End is a valiant attempt to know an unknowable relationship, in all its difficult complexities, as well as an entertaining throwback to a comedy original.
• The debut run of Howerd's End continues at The Golden Goose pub theatre in Camberwell, South London, tonight and Saturday.
Review date: 30 Oct 2020
Reviewed by: Steve Bennett
Recent Reviews
What do you think?