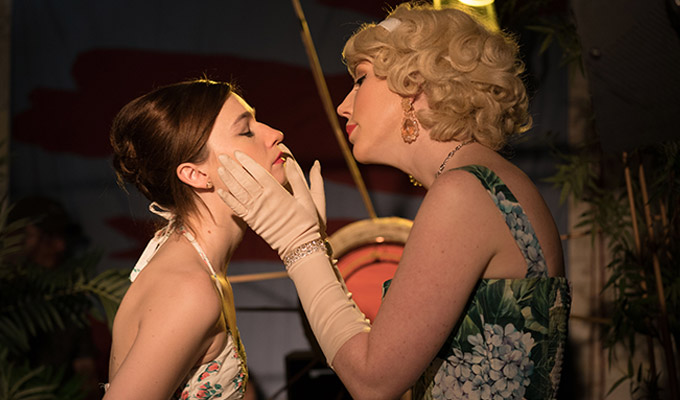 Urban Myths: When Joan Kissed Barbra
Katherine Ryan's acerbic stand-up has been compared to Joan Rivers so often that it was surely a no-brainer to cast her as the younger version of her comedy hero.
This latest episode of Sky Arts visual anecdotes goes back to 1965 when, as a struggling club comedian still going by her real name of Joan Molinsky, the future icon dabbled in straight acting in an off-Broadway play. 'Way' off Broadway, as the introductory caption explains.
Her co-star was one 16-year-old Barbra Streisand, way before her first flush of fame, too. The pushy Molinsky had taken a male part, unaware that the script demands a love scene between the pair.
In real life the encounter was probably wildly exaggerated by Rivers – and has never been mentioned by Streisand – giving writer and first-time director Sue Perkins free rein to put her own spin on the story.
The Rivers role doesn't exactly demand the most nuanced of performances from Ryan, who belts out every line as if she's in a wisecracking vaudeville act. And most of the lines are in the same vein, from blunt complaints about the attic venue ('my vagina can't do stairs') to barbed sniping about Streisand's looks, dubbing her the 'human sundial' – while Rivers herself seems to be recovering from her first nose job.
As the film unfolds it transpires that the comic's brusque shtick is a cover for a conventional upbringing and barely concealed insecurities – although Perkins never really lets that armour slip. Meanwhile, Streisand isn't quite the 'uptight teenager' Rivers sees her as, but tentatively trying to live the life of a Greenwich Village bohemian. Jessica Barden from The End of the F***ing World brings a few more layers in this role, as well as being a good physical fit for the young Streisand.
Despite some fairly broad brushes in the characterisations, Perkins brings the story to a strong, rather heartwarming end, making this Urban Myth as gently entertaining, if ultimately inconsequential, as many in this series are.
• Urban Myths: When Joan Kissed Barbra is on Sky Arts at 10pm tonight
Review date: 14 Oct 2020
Reviewed by: Steve Bennett
Recent Reviews
What do you think?