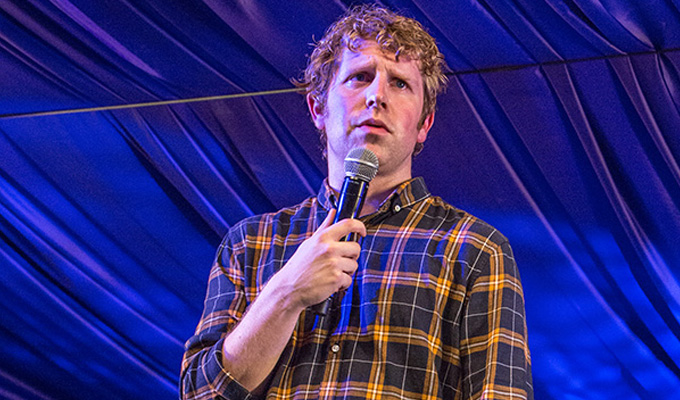 Greenwich Comedy Festival with Josh Widdicombe
Residents of Greenwich in South London have become used to a giant marquee popping up in the grounds of the historic National Maritime Museum each September, attracting the cream of comedy to the borough's comedy festival.
This year it's different - because everything is. The site is filled with pairs of seats, each two metres from the next, covering a huge area. It's probably the biggest stand-up gig since lockdown, even if the spacing means that half the audience have far-off views of the stage, as host John Robins pointed out.
But there are pluses: at-seat service, for starters. And at least one punter was spotted smoking at the gig. Imagine!
Great night at the #greenwichcomedyfestival watching @joshwiddicombe @sindhuvfunny @LouSanders @nomadicrevery All socially distanced and well organised with lots of laughs! A much needed social event with my lovely @GreenwichSLT team! pic.twitter.com/gr56JEMBAV

— Nazia Rizwan SLT (@NaziaRizwanSLT) September 24, 2020
As with almost all the gigs post-pandemic, organisers have done an excellent job at making it all work with the new rules. As you get your tickets scanned, you can also buy drinks, a simple queue-busting innovation we could keep, and exit times are staggered to minimise the chance of people bunching up - though of course it still happens.
The main minus, of course, are the elements. Threatened rain held off last night, but it was definitely chilly. Fleeces and brollies at the ready. And a socially distanced audience can never hope to have the shared community of a tight-packed one. But everyone in what we might once have called 'the crowd' wants the gig to work, and that goes a long way.
In only his second post-lockdown gig, Robins noted, tongue-in-cheek, that being so far from the front row mean the first casualty of coronavirus was 'banter'.
But he nevertheless engaged with them, amusingly channelling Alan Partridge with his wilfully dull, narrow 'icebreakers', interspersed with stories of shame that still keep him awake at night, years after they happened. How we laugh at the ignominy that gnaws at his mental wellbeing - with a mix of schadenfreude and recognition that we've all been there.
Direct relatability isn't so much Lou Sanders' thing, instead beguiling by being enthusiastically bonkers, just about keeping a lid on the chaos of her being. In the search for answers to life, she introduces to the world her new method of divination using the power of vegetables. Of course it's daftly stupid.
There are flecks of feminism mixed into her material, but always disguised by the flippant vessel of her apparent muddle-headedness and driven by her force-of-nature absurdity.
Way more restrained is Sindhu Vee – who, like Sanders, boasts Covid antibodies having survived a bout of the virus earlier this year.
Tales of her lockdown experiences, family life, and her embarrassing social faux pas of never quite catching her hairdressers name, can be slow to unfold, but she always has the audience's attention. And - as with Robins – we can vicariously share her embarrassment, thankful it wasn't us.
It was headliner Josh Widdicombe's night, though. In the past, his feigned incredulity in reaction to everyday life has sometimes felt forced – but here he hit the observational nail on the head time and again in a set that ranged from grown adults drinking inappropriate beverages to the mechanics of children's playgrounds.
A routine about weddings – that social staple of mid-thirtysomethings like him – resonated especially widely, with every inner thought a guest has ever had echoing back from the stage. His tour might have been cancelled midway through, but on this evidence he remains on form, despite a circuit shutdown that's six months and counting.
More power to the elbows of events like the Greenwich Comedy Festival - which continues until Sunday – to try to get the industry moving again.
Review date: 25 Sep 2020
Reviewed by: Steve Bennett
Reviewed at: National Maritime Museum
Recent Reviews
What do you think?