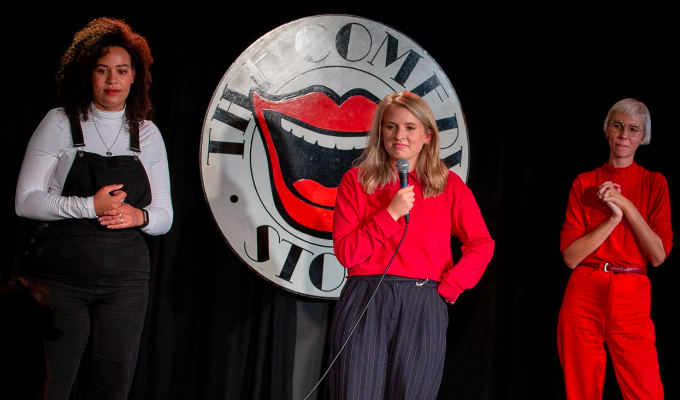 Funny Women Final 2020
It's a given that every gig is weird now, so spare a thought for the newer acts in the final of the Funny Women stage award this year.
Performing in a closed-set Comedy Store, with an audience of just a dozen industry folk - not a bunch renowned for generous laughter – might faze the oldest hand. Yet even with no real circuit on which to hone their competition-ready sets ('You're basically YouTubers', host Jayde Adams told them after months of Zoom gigs, at best) they performed with a poise and professionalism that would have done far more experienced comics proud.
It made the opening slot even tougher than ever, but Naomi Cooper filled it perfectly. She might joke about flashing a disarming twinkly smile, but she absolutely practises what she preaches, with a delightfully joyful demeanour that fills the stage with mischievous glee.
Yet her material has a bit of bite, covering the expectation that thirtysomething women must want babies, the reality of pregnancy tests and a very pointed line about her lifestyle – all with an uplifting glint. She was unlucky not to be placed.
Not that you would necessarily expect it from her name, but Katie Green's comedy leans on her Latina heritage, not least her El Salvadorian grandmother. Yet another surprise is her bang-on London accent, perfectly mocking the Mockney. If there's a criticism it's the ironic one that she sounds a bit TOO much like a stand-up: her delivery has the tried-and-tested rhythms of a well-rehearsed American comic rather than more naturalistic, conversational ones.
Fiona Ridgewell has a firm sense of self that will serve her well, torn between the desires to be a 'girly girl' and 'one of the lads', the latter surely an influence of her blokeish dad, from whom she's apparently also inherited a direct, cheeky sense of humour.
In that, her background resembles Suzi Ruffell's while Ridgewell also shares the more experienced comic's command of the stage and material, making her another of the night's top performers, even if she didn't make the podium. And she's got a cracking line about mindfulness.
Very tall, very thin, and with a distinctive bleach-blonde bob Eryn Tett makes an immediate visual impression, with a sort of gangly awkwardness that calls to mind American oddball gagsmith Emo Phillips. She, too, has an off-kilter sense of humour, with tales of crabs visiting therapists and a new take on the 'baby on board' badges that will stick with you. Her mistaking 'crotch' and 'crutch' seems less intentional, mind!
Crucially, she also has a well-developed sense of timing, wringing out the tension in pregnant pauses. Altogether, it's an engagingly idiosyncratic act, which earned her a well-deserved second place.
In third came Mary O'Connell, a slicker performer with obvious attitude – although her material felt less fully-formed. She exudes an aloof middle-class confidence, which she knowingly exploits while discussing topics such as her 'pretty privilege'; but her takes on subjects such as Free The Nipple (a bit behind the zeitgeist) are less insightful. But once her writing catches up with her compelling stage presence, she could be a force to be reckoned with.
At the opposite end of the energy scale, downbeat Izzy Askwith has, in her own self-effacing words, 'not got a huge amount to offer personality-wise' – despite her ironic attempts to appear cool.
Her nervous, confused deadpan can be a harsh environment for her off-kilter jokes, but is also weirdly disarming – a little like maladroit Australian award-winner Sam Campbell. And she's in control of her awkward physicality, with perfectly misplaced gestures. It's a winning package, literally, as it secured her first place.
Christine O'Sullivan's warm and friendly demeanour goes some way to soften a political routine inspired by Ireland's abortion referendum, and her activism surrounding it. But her feminist message tends to overwhelm the funnies, and the routine becomes a series of sarcastic points giving the patriarchy an admittedly well-deserved kicking that garners more approval than belly-laughs.
Finally, came ex-Cambridge Footlighter Ania Magliano with a wry and dry routine about her background, part Italian as her surname attests. She has a nice line in sardonic self-referential sass, but gags on topics such as her mum's malapropisms don't always stand out, and the set struggles to cohere, which felt like it may be down to not being gig-fit, entirely understandable given the circumstances.
Kudos goes to anyone running or performing a gig these days, and that especially extends to the Funny Women producers and Comedy Store staff getting a gig - albeit it a strangely sparse one – back up and running in this most perfect of stand-up venues.
Review date: 23 Sep 2020
Reviewed by: Steve Bennett
Reviewed at: Comedy Store