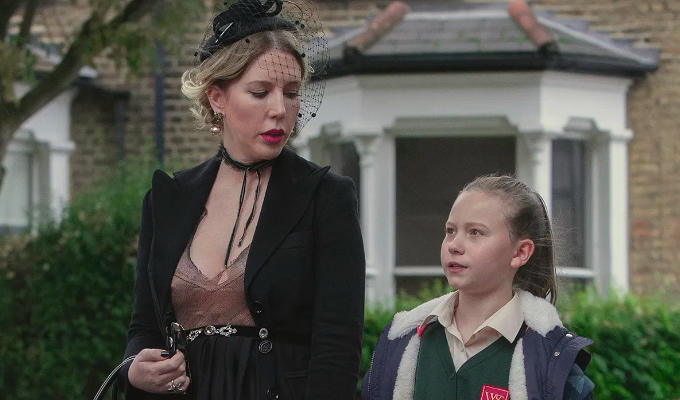 The Duchess
Katherine Ryan is a smart-mouthed, immature, difficult single mother, whose selfish needs are only trumped by doing all she can for her precious daughter. That's Katherine Ryan, the central character of new Netflix comedy series The Duchess, of course, not the acerbic stand-up who created and stars in it.
Her alter-ego is an intriguing figure, proudly independent and giving zero shits – but who is so wilfully going it alone because past hurt has caused her to pull up the emotional drawbridge.
One of the more fascinating strands of The Duchess is the twist on the romcom dynamic, in which Katherine wants to maintain her life of string-free sex once a week, with mild-mannered dentist Evan (Australian comic Steen Raskopoulos), while he craves a proper relationship. 'Why can't I find a man who just wants to have casual sex?' Katherine laments, as if such a creature was endangered.
Her reluctance to commit might be explained buy the fact she had Olive, her beloved duchess of a daughter played by Katy Byrne, from a youthful fling with boyband star Shep (Rory Keenan), now washed-up and living on a grubby barge, brewing anticapitalist sympathies and unwilling to wear a shirt.
That such a beautiful flower came from such damaged seed is key to Katherine's character, so proud is she of what she achieved as a parent. She cares about nothing else, certainly not school-gate decorum in the well-to-do corner of London where she lives. That's evident from the opening scene when she rocks up with a jumper proclaiming: 'world's smallest pussy' – just one of the designer outfits the character dons over the series. Ryan certainly exploited Netflix's wardrobe budget…
That visual gag is the tip of the outrageous iceberg, as her character is often so artlessly blunt, such as with the references to anal sex, that it feels as if Ryan the writer is trying rather too hard to shock.
While some of her barbed insults are acidly funny, as you might expect from her stand-up work, the character is sometimes just brutally unpleasant. There are mitigating circumstances, of course, as the antagonistic characters have been made even less likeable than her: Shep, for instance, or the stuck-up yummy mummy whose daughter is bullying Olive in episode one.
The Duchess feels like a show that hasn't quite found its perfect tone yet, sometimes too harsh for its genuine humanity to come out. But plenty of gags land and Katherine, for all her obvious faults, can be sympathetic at heart.
Maybe it will take a second series to emphasise what is so obviously great about this comedy, and to exorcise what so obviously isn't.
• The Duchess is available on Netflix from today.
Review date: 11 Sep 2020
Reviewed by: Steve Bennett
Recent Reviews
What do you think?