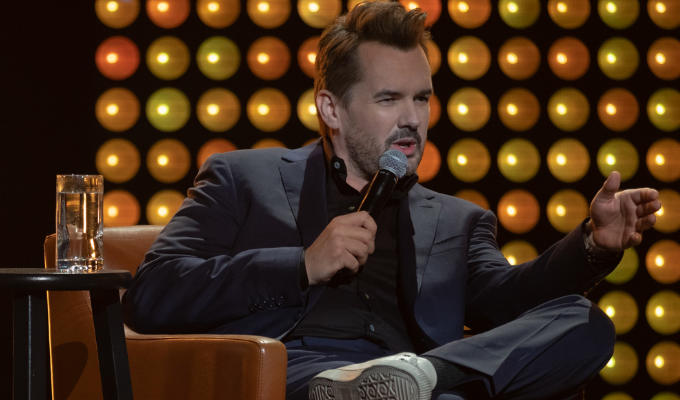 Jim Jefferies: Intolerant
On the face of it, Jim Jefferies doesn't seem to be the ideal comedian for the moment.
He may have made his name in the States for hitting the zeitgeist with his perceptive 2014 gun control routine, but now doesn't seem the perfect time for a hard-drinking, coke-snorting, white guy with a reputation for being controversial, uncouth and a shade misogynistic to be having his say.
Indeed, some of the material in Intolerant where he kicks back against encroaching wokeness and defends a comic's right to be wrong puts him in the same camp as a lot of his colleagues scrambling against a cultural tide.
But there's always been more to Jefferies than the slovenly lad comedian he could be superficially categorised as, and so it is here. For the backbone of his newly released Netflix special, a version of the tour show he brought to the UK last autumn, is a silly, slapstick – and, yes, scatalogical – race against time.
We learn early on that he's lactose intolerant, yet loves dairy. So on a date in a fancy restaurant he takes a gamble on the cheese plate, figuring he'll have just enough time to make it home before it has its inevitable effect on his gut. But he figured without his date wanting to stop off en route, ramping up the will-he or won't-he jeopardy. Shit himself, that is.
The titular intolerance also extends to a litany of bugbears: the pretentiousness of the Michelin-starred eatries he can now afford to dine at; Italian-Americans and those allergic to peanuts. The underlying joke is often that he's a selfish, unempathetic prick for feeling this way, though he gets to lash out at his targets, too.
On the topic of millennials, the aim is to provoke a little more aggressively, branding them 'the worst people who have ever lived' to the approving hollers of his Boston crowd.
Provocation is still a useful implement in the stand-up toolkit, despite the pressures not to offend, and Jefferies has a sly dig at Gen Y censoriousness when it comes to comedy ('pussies', he brands them for not being able to take a joke they disagree with) as well as intolerance when it comes to older people who aren't moving as quickly towards enlightenment as the younger generation demands.
Perhaps he's trying to pre-empt a likely backlash to material that even he heralds as misogynic or fat-shaming. Why shouldn't over-eaters, like his own mother, be shamed like any other addict is his well-made, if moot, point. Another routine that apparently trivialises blackface – though he's unequivocally against it - hasn't dated too well in just a few short months since he shot this special.
But while such routines might be divisive, Jefferies always has a impish cheek, even vulnerability, behind the swagger, and for the large swathes of Intolerant where he steps away from the contentious in favour of plain stupidity, he is the butt of the joke. As, indeed, is his butt.
• Jim Jefferies: Intolerant has been released on Netflix today.
Review date: 7 Jul 2020
Reviewed by: Steve Bennett
Recent Reviews
What do you think?