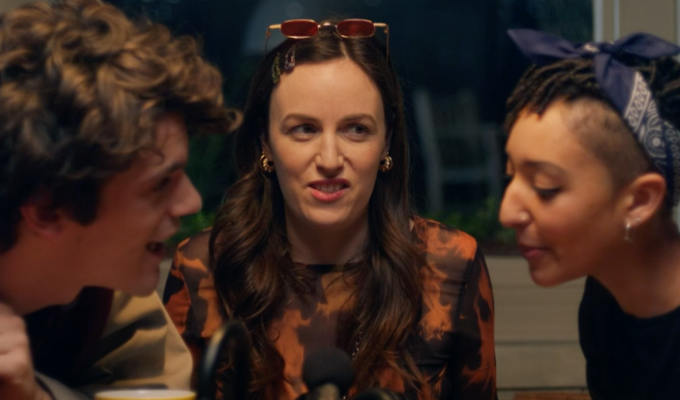 Behind The Filter
If you're a young, white, middle-class female comedian making a TV show with a frank scene about sex, you're going to be compared with you-know-who. Especially if your first name happens to be Phoebe.
So Ms Walsh, formerly of the Oyster Eyes sketch trio, leans right into it with the opening scene of her newly-realised 15-minute BBC Three pilot, Behind The Filter. The very first words, uttered longingly in a half-asleep haze, are 'Phoebe Waller-Bridge'... before her character, Ruby, masturbates while watching a video in bed. Not Obama this time, but an internet hunk called Barney (Edward Bluemel), whom she's about to interview for her podcast.
Of course she's got a podcast. She's a directionless, jobless twentysomething, desperate to find some purpose in her life, so what better distraction? But everyone in the world she's desperate to join is defined by identity politics, and she hasn't much to bring to the table.
Charlotte (Patricia Allison), her other guest on the feminism-based show is all that she wants to be and never will be: a radical campaigner and gender-studies student with an authenticity of experience.
Ruby is so desperate to belong that she transparently lies about being a queer woman of colour, and clumsily makes reference to gender pronouns and the trans community, bandying the terms with the same emptiness as the Instagram-style affirmations that adorn her bedroom wall. She could be David Brent's daughter, such are her clumsy attempts to appear woke.
While Charlotte's the real deal, Barney's vacuous platitudes 'on behalf of all men' are a bit more phoney. But he has the confidence of a good-looking, privileged bloke to be able to pull it off, at least superficially. It's not long before Ruby becomes a gooseberry on her own podcast.
A tonal likeness to The Office, however, shows a failing of this show to move beyond a 20-year-old brand of comedy all about letting moments of social awkwardness hang in the air rather than jokes. The most substantial actual gag, confusing an 'I have a dream' for humanity with a recurring night-time fantasy, is not an original one, but nicely executed. Similarly, a fake orgasm scene gives Walsh rein to show off a slightly more physical form of maladroit comedy, putting a bit of a twist on a comedy staple.
There don't seem to be many levels of Ruby, so her empty-self absorption makes her borderline insufferable, which is likely to be a drag over a series. On the other hand, this is a convincing depiction of a lost generation seeking affirmation in a world where traditional sources of identity, such as career, are becoming meaningless.
Such a situation seems ripe for exploring, while Walsh and co-writer Harriet Gibsone, who must be steeped in this world as a Guardian journalist, have a good ear for dialogue. But if this is to progress, Ruby could do with some hidden depths and have more at stake than an unreciprocated crush on a boy's Instagram projection.
• Watch Behind The Filter on iPlayer.
Review date: 30 Jun 2020
Reviewed by: Steve Bennett
Recent Reviews
What do you think?