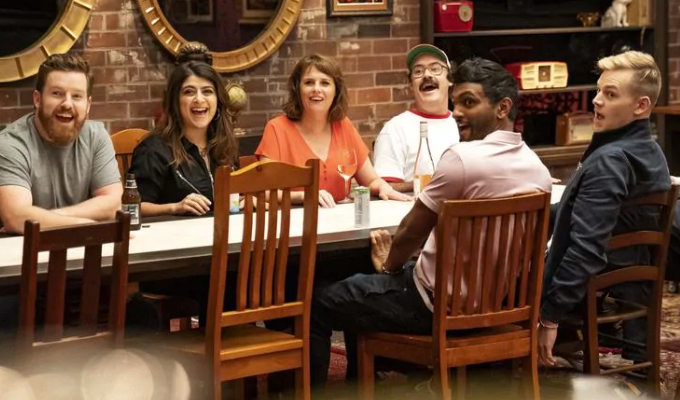 LOL: Last One Laughing
It's not just the 20 years of Big Brother in the UK which means the notion of watching strangers kill time while locked up in a house for hours on end lacks the escapism it once did.
But Amazon's new(ish) twist on the format, while flawed, benefits from a simple but winning premise and – more importantly - a selection of housemates from the top flight of the Australian comedy circuit.
The tantalising concept behind LOL: Last One Laughing, originally a Japanese format, is that the ten comics involved must not crack up: a tall order given that laughter is the currency all involved crave, and that they all have well-honed skills to make that happen.
So inevitably their efforts work on the home viewer, too, whether it's Anne Edmond's casual profanity, Frank Woodley's dumb goofing, or Sam Simmons' elaborately surreal prop work. Camp Joel Creasey always seems on the verge of giggles, even with nothing happening, yet even more deadpan comics like Nazeem Hussain have to fight to suppress the urge.
Another advantage of the format is that the comedians _ also including Dilruk Jayasinha, Ed Kavalee, Becky Lucas, Nick Cody and Susie Youssef already know each other to some extent, and will be used to trading green-room insults.
The concept of the 'laughter from the back of the room' is well-known in the clubs. What makes hardbitten, heard-it-all-before stand-ups laugh tends to be the more extreme gags that might be too much for general crowds, so when fellow comics are your only audience, the weirdness and the inappropriateness are all dialled right up.
Yet the reaction such extremity gets in the LOL house is rarely more than a dry, stony-faced comment such as: 'Jesus Christ that's way too funny.'
The show takes a little while to hit its stride, but like any reality programme, once you start to know the characters involved, you become invested. The fact that they are all funny, quick-witted and self-deprecating makes that easier.
However, the format doesn't quite know what to do with its biggest star, Rebel Wilson, who hosts.
At first, she is an unnecessary commentator.
'I'm horny,' says Sam Simmons down the barrel of the camera after he's first into the empty house.
'Did he just say he's horny?' Wilson reiterates, adding nothing to the joke.
Once the game starts, she's the cutaway, watching proceedings on her couch like a one-woman Gogglebox while chuckling along profusely. That's her real purpose: a human laugh track, which seems something of a waste of her talents. But then someone needs to provide the reaction that the comics themselves can't, for fear of jeopardising the $100,000 first prize.
And finding out who will land that windfall looks like it's going to be fun.
• The first two half-hour episodes of LOL: Last One Laughing have been released on Amazon Prime today.
Review date: 19 Jun 2020
Reviewed by: Steve Bennett
Recent Reviews
What do you think?