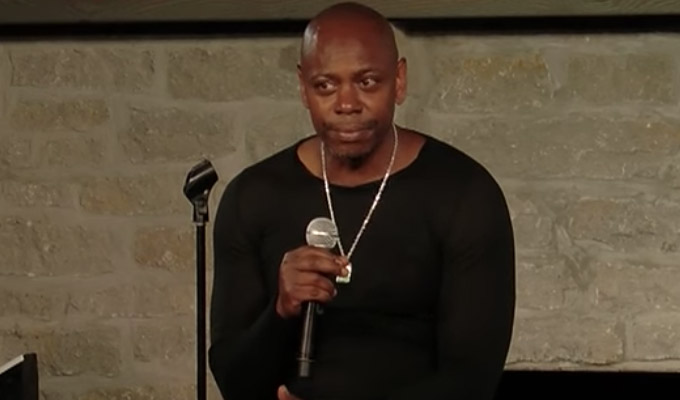 Dave Chappelle: 8:46
Too much has been written in response to Hannah Gadsby's assertion of the truth that some traumas are too raw for comedy. But it is the same reason why Dave Chappelle makes negligible attempts to temper the deadly serious issues at the heart of 8:46 with any attempt at a punchline.
'This is not funny at all' is his own verdict. The 'special', if we can call it that, is not even meant as comedy – but is what happens when an eloquent, compelling presence is compelled by a passion and an urgency to address an issue that strikes at his heart: the death of George Floyd that brought the untreated cancer of racism in American society to the surface once more.
This rush-released half-hour special apparently came in response to other commentators calling on Chappelle to speak up – as if his thoughts on the issue might surprise anyone given he's spent two decades addressing it. The stand-up acknowledges this is surely a time for celebrities to take a back seat, musing, 'why would anyone care what their favourite comedian thinks after they saw a police officer kneel on a man's neck for 8 minutes 46 seconds?'
'This is the streets talking for themselves,' he says of the Black Lives Matter protest erupting around the world. 'I'll keep my mouth shut.' Though he ignores the contradiction that he's saying as much on a widely-viewed recording put onto YouTube by Netflix.
Over the course of the special, Chappelle essentially makes two lists. One is of just some of the black men who have unjustly died at the hands of police, a roll-call seemingly without end; the second is a selected catalogue the commentators he accuses of fanning the flames. The finer points of the second might be lost on UK audiences, as is the adulation he expresses for LeBron James, but the sincerity is absolute. However it is his telling of how history keeps repeating, giving grim context to the volatile situation, that is so mesmerising.
Chappelle tells of having an encounter with one cop in Beavercreek, Ohio, where he lives and where this set was recorded. He was pulled over by the officer, but waved on his way. The next day, that same officer, shot and killed John Crawford while he was holding a toy gun he was planning on buying in the town's Walmart. The cop faced no criminal charges.
But Chappelle's comments - much as they illuminate how real this issue is for every black person in America – need no such personal link to assert their authenticity; for 8:46 cuts to the essence of what it is to be a stand-up and why his words carry weight, despite his belief celebrities should remain shtum. His audience, Chappelle asserts, are listening 'because you trust me. I'm not perfect but I don't lie to you'. The frequent applause breaks he gets demonstrate how the audience are on board with his message.
In some of his recent work, that imperfection has caused controversy, especially when he's taken swipes at transgender people. But here, with clear targets who are in positions of power or the structure of society itself, Chappelle's intelligence and insight is precisely targetted. Yes, it's a howl at the inequities of the system, but more layered, more contextual, than blind rage that captures the sprit of this time.
Shot intimately, with Chappelle holding a notebook – which he never refers to – this feels like it could be a work-in-progress gig. But his thoughts are more powerful for being unfiltered, but not unfocused.
As well being historic in the issues tackled, this fascinating special – or maybe 'speech' would be a better description – also claims a first in being the first comedy gig in America since lockdown that wasn't a drive-in; recorded on June 6 with a socially distanced audience wearing masks, some of them carrying Chappelle branding.
But it's obvious no clear pandemic is going to stop Chappelle saying what needs to be said. And heard.
Review date: 15 Jun 2020
Reviewed by: Steve Bennett
Recent Reviews
What do you think?