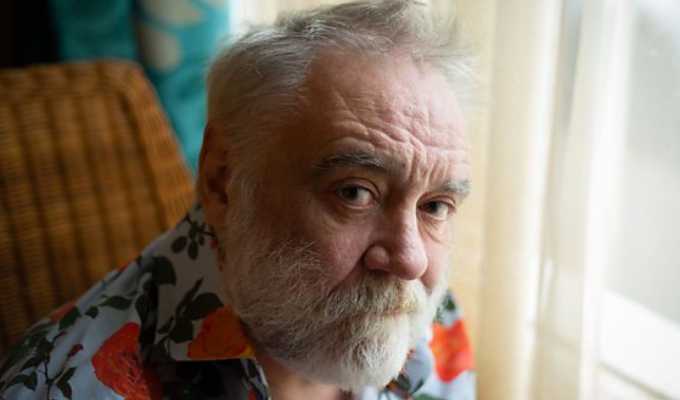 What's The Matter With Tony Slattery?
This story of what happened to Tony Slattery, 35 years after he set screens alight with his dazzling displays of mercurial comedy talent is not always an easy watch, but it is a compelling one.
A member of the 1981 Perrier-winning Cambridge Footlights team alongside Emma Thompson, Stephen Fry and Hugh Laurie, Slattery became best known for his quick-witted improvisation on Whose Line Is It Anyway – although his constant presence across the schedules in the latter part of that decade became a running joke.
But he went from ubiquity to obscurity in a beat, amid tales of erratic behaviour, prodigious cocaine abuse – 10g a day at his nadir – and alcohol problems, all entwined.
Making a tentative return to the spotlight over the last year or two, Slattery has increasingly spoken about the mental problems that have bedevilled him; and now this absorbing and intensely revealing Horizon documentary probes deeper into the issues, sometimes uncomfortably.
Slattery's story, of course, plays up to the tears-of-a-clown archetype, and it's explicitly wondered if his spirited, quick-witted comedy performances were, in fact, a symptom of bipolar disease. That condition had often been mooted as the answer to the titular, alongside the more concrete diagnosis of depression, and this film follows the comedian as he tries to get to the bottom of it.
He agreed to let everything he learned be recorded - the film-makers are keen to point that out, as the sessions probe disturbing territory. Slattery has a complex relationship with the process, uncertain about what he will find, and what he'll be asked to do to try to help himself on the way to recovery.
For a man whose confidence seemed indestructible at his comic peak, he cuts a vulnerable figure here. Grey, jowly and obviously troubled, he is not the figure he was. But he is also so obviously warm-hearted and charming, an empathic figure we instantly root for. One of the reasons he gives for not submitting to therapy before is the fear of being self-indulgent, so sweetly misguided is he.
Slattery still cracks jokes – often explicitly to divert from painful thoughts – but always without guile. In fact, the whole story drenched in heartwarming kindness, from the medical experts who advise him to his long-term partner Mark Hutchinson, with whom he shares some tender, emotional moments on camera.
But the path to recovery is not smooth. There is a dramatic, difficult revelation of a trauma that Slattery has kept buried until now, which feels like a game-changer… but the documentary makes clear no one moment is conclusive. Life is not as neat as a Hollywood script.
And while Slattery kicked his coke habit decades ago, alcohol is clearly still an issue, a substance he says he uses to dull the pain. Although he's forced to confront the home truth that it's more likely to be a cause rather than a cure. Similarly, his dependency on Hutchinson's bottomless unselfish support is also brought into question.
There are a lot of layers to Slattery's story – as there is in every tale of mental health – and this raw film doesn't aim to simplify, to sugar-coat, nor to give false hope of an easy fix.
But following this beautiful portrait of damaged humanity, every viewer will be left rooting for this hugely sympathetic man as he stumbles his way, hopefully, towards recovery from what those troubles he put behind him, and management of those he can't.
• What's the Matter With Tony Slattery? is on BBC Two at 9pm tonight
Review date: 20 May 2020
Reviewed by: Steve Bennett
Recent Reviews
What do you think?