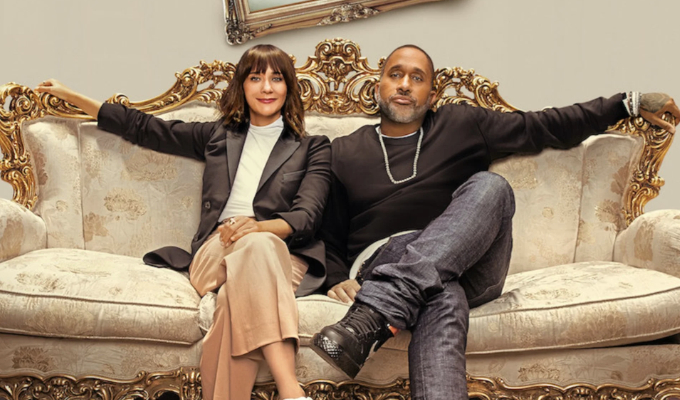 BlackAF
Shown on E4 in the UK, American sitcom Black-ish has not made anything like the impact here as it has in the States, where it has run for six seasons in a primetime slot on ABC.
The network's comedies are traditionally seen as safe, but Blackish – imagine The Cosby Show if the Huxtables actually realised they were black, and how that affected their lives – has caused ripples for addressing some hot social issues through the context of a mass-audience family sitcom.
Now creator Kenya Barris has stepped out from behind the camera to play an exaggerated version of himself for Netflix's BlackAF, which shoves racial politics even more prominently into the foreground, while depicting the realities of his rarefied life.
For the writer-producer, who has signed a reported $100million deal with the streaming service, is phenomenally rich, living in a stunning house and able to rub his white frenemies noses' in his wealth by taking a private jet the 350 miles to San Francisco.
There are many echoes of Curb Your Enthusiasm, but where Larry David is ultimately the architect of every perceived slight that enrages him, Barris's torments come from society. That's made explicit in the episode titles, every one of which includes the phrase 'because of slavery'.
How the world sees him is always on his mind, and in consequence, how he feels he needs to present himself as a hugely successful black man, with baggage a white guy does not have to worry about. First World Problems, certainly, but rooted in something deeper.
Just some of this surfaces in an early scene set at a plush brunch place, where he and his brood run into Steven Levitan, co-creator of Modern Family, who represents the 'white gaze' that Barris feels subjected to, as well as a group he never quite feels part of, despite having worked so hard to get there.
Levitan's sitcom is also a clear inspiration for BlackAF, as the fictional Barrises – of which there are many – offer a running commentary of their situations in direct-to-camera pieces between scenes.
There is an explanation for this format: Daughter Drea (Iman Benson). is making a documentary about her family to support her film-school application, with dad having sprung for a full crew. It certainly helps explain cameras getting into shot in scenes which have a slightly improvisational, freewheeling feel about them.
Besides this, there's a lot of flashy editing to drop in backstory and even historical context; it's a little frenetic and takes the show away from the central family, but emblematic of a show that keeps a brisk pace and wants to throw a lot of ideas into the mix. In some ways, this makes BlackAF but feel uncertain of what it is - but very confident in expressing it.
The same oxymoronic mix could be said of Barris himself, but the ambiguity keeps the audience on their toes, and ensures the show does what it says in its pitch, and mixes up the traditional family sitcom.
Elements of that genre are certainly still present, including the ever-empathetic Rashida Jones as a slightly more nuanced version of the eye-rolling wife, tolerating her husband's peculiarities, but BlackAF is more ambitious and more thought-provoking than that. And funny, too, from witty examples of bad parenting, flamboyant displays of wealth, to Barris grappling with the baggage he cannot help but brings to every situation.
• BlackAF is available on Netflix now.
Review date: 20 Apr 2020
Reviewed by: Steve Bennett
Recent Reviews
What do you think?