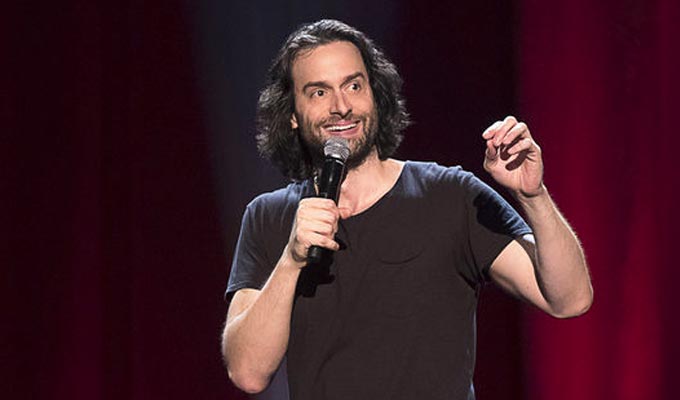 Chris D'Elia: No Pain
It's all 'bro' and 'dude' and 'man' with Chris D'Elia; a style of stand-up that's long started to feel stale.
He's a 39-year-old man-child, playing up his dumbness and his arrested development, complaining that newspaper articles are 'really hard to read' and doing routines that imagine overlooked X-Men characters getting their dicks out.
The lack of sophistication is tempered by a certain self-awareness, a clear charisma and strong performance chops when it come to acting out the scenes he describes – all of which makes this new Netflix special at least superficially entertaining.
His calling-card piece is the opening routine about the time he 'growled at a baby', relishing in the wrongness of his actions. He knows it's a stupid and childish thing to do, and milks the moment with a highly physical performance, playing to his strengths.
Funny as this is, there's a sense he wants to be more than this lightweight entertainer, but struggles to find that position. The closest he gets to social awareness is warning jocks like him that they need to keep their dicks in their pants – and he's probably the sort of person who needs to be saying that to get the message across – but it's a limited public service announcement.
In his quest to find a place in the comedy world, he repeats a familiar notion (echoed in the title) that supportive parents and a comfortable upbringing mean he can never be a great artist – but the idea remains undeveloped. Similarly he ponders that 'I didn't realise life was easier' as a white dude, but largely leaves any comic exploration of privilege behind, as he'll ill-equipped to negotiate the political minefield.
Instead he opts for what's becoming the a default position for many a stand-up looking for an angle – taking a page out of the Ricky Gervais playbook to hit back at those who would 'censor' comedy.
Quite why this is vexing him is unclear, as his own material is inoffensive. Indeed this whole section is triggered by an silly – if over-long – segment which ends with a single line in which a fictional shark self-harms.
Apparently – at least in his retelling – someone took offence at this whimsy, so D'Elia gets his 'you can't censor me' cudgels up, raging: 'You can get mad at somebody saying something but you can't tell them not to say it.' Entirely missing the irony of him telling this imaginary person what they can and can't say.
It seems like he's inventing victimhood in his need to define himself and appear interesting. He defends himself against this straw man by insisting: 'I will push the envelope' – which saves him the bother of actually having to push the envelope. Not that the world wants any more edgelord comics, but he never gets nearer the knuckle than mischievously teasing a racial stereotype which, even if true would be trivial: that black people take a long time on pedestrian crossings.
D'Elia undoubtedly has an engaging energy, but it needs to find focus if he's to have relevance beyond being yet another arrested-development bro or simply parroting the 'free speech' arguments of other, more famous, comedians.
• Chris D'Elia: No Pain is on Netflix now
Review date: 15 Apr 2020
Reviewed by: Steve Bennett
Recent Reviews
What do you think?