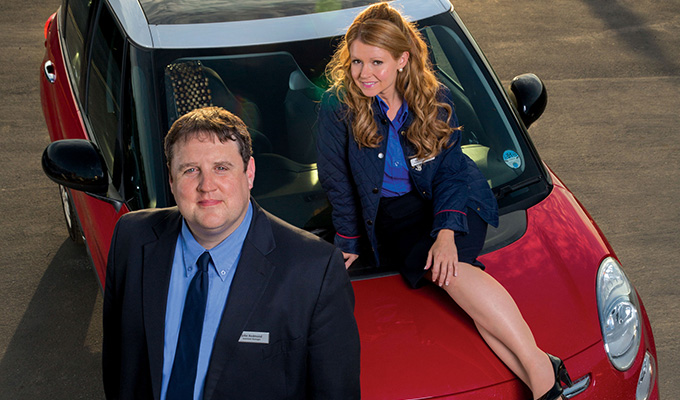 Peter Kay's Car Share: Audio special
The BBC has sunk millions into its Sounds app for its audio output. Yet when it came to the surprise audio-only special edition of Peter Kay's Car Share that dropped tonight, it was the iPlayer where it landed.
Little was lost in losing the visuals, given that the action was largely confined to the Fiat 500L driven by Kay's character John in any case.
There may not be the visual gags like a car door being ripped off, but in this format, you can focus even more on the all-important dialogue between John and Sian Gibson's Kayleigh, now the will-they/won't-they storyline has resolved itself, and the colleagues are now a proper couple.
And so, over 21 minutes they shared stories from their past, enabling Kay to play to his penchant for nostalgia. Although even a time when you could share a car with a colleague with no fear of contamination feels like a bygone era these days.
So between singing along to Love Is In The Air, courtesy of Forever FM, and playing out to S Club 7's Reach For The Stars in its entirety, the script by Paul Coleman and the cast revelled in teenage sexual fumblings and old pop culture touchstones.
Body-popping, 'bumpy slides', BMXes and Grifters, all get namechecked and the tone is warm as Kayleigh struggles to remember the likes of Benny Hill, allowing John/Peter to explain, and even give us a burst of Ernie, The Fastest Milkman In The West.
Operation Yewtree even gets a mention, to add a slight frisson of naughtiness, while some of those coming-of-age stories touch on cheeky, but it's the lightest of blue.
Mix in some spoof ads and even a genuine-sounding weather report from the radio station, and you have all the Car Share elements fans love. Especially the phenomenal chemistry between Kay and Gibson.
Kay said he wanted to do this episode as 'something positive in an attempt to cheer people up in some way'. And with this modestly joyful, affectionate little treat, that job is definitely, done
Peter Kay's Car Share special is available here.
Review date: 10 Apr 2020
Reviewed by: Steve Bennett
Recent Reviews
What do you think?