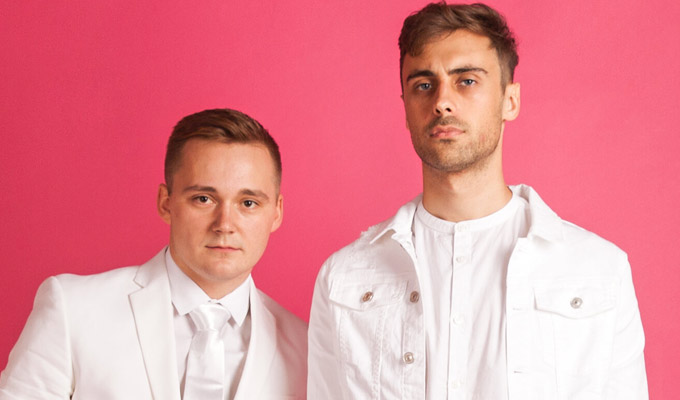 Willis & Vere: Genius
Genius is an odd beast: designed to show the improvisational skills of double act Willis and Vere, even though their strengths lie in an entirely different direction. For it turns out that their greatest skill is in the precision and detail required to create slick parody videos, while their attempts to work in the moment prove pretty basic.
Although the show is billed as being based entirely on audience suggestions, they wisely, don't actually play such a major part. Instead, they form interjections to be dealt with before moving on. And even if the suggestion is dismissed with a joke about the challenge being too difficult (a get-out the duo are quick to use) it does not substantially affect the rest of the show.
The premise is that George Vere is a world-famous actor being interviewed about his new memoirs, Genius. But the booked interlocutor has failed to show up, so a hapless member of the venue staff (Adam Willis) is roped in to do the honours, despite knowing nothing about the guest of honour. It's up to the audience, then, to remind him of the key points of that illustrious career.
The artifice is flimsy since the conversation adheres to a set biography that the interviewer is clearly all-too-aware of. He has to be, to get from one video insert to the next. This wouldn't matter much if the scripted elements were strong and the improv seamless, but neither is true. Vere's character is very loosely defined, too, swinging between the familiar cliché of the pretentious auteur and the voice of a Coco Pops ad.
Luckily, tonight the audience seem funnier than the performers are, with more laughs from the mischievous suggestions than from what Willis and Vere do with them.
On screen is where their skills lie. A Japanese advert for a George Vere doll is spot-on, with a technical skill that suggests they could easily find future employment in directing. Elsewhere, Vere is expertly edited into the likes of Line Of Duty and a Greta Thunberg film on climate change – although the joke is rarely worth the effort that's clearly gone into these. For example, the insults Vere barks at The Apprentice candidates are barely an exaggeration of Lord Sugar's genuine grouch.
A spoof R&B video, in which Vere can't focus on his stunning partner because he is attracted to a very unlikely sex siren, is a highlight, even if doing the full song feels like stretching of the gag too far.
Not all the videos are as good as this. A split-screen reunion with his estranged Mexican twin brother that's a tenth-rate Borat knock-off – with none of Sacha Baron Cohen's daring, naive charm, or nose for a gag – is simply awful.
On stage, there's engaging chemistry between the agreeable duo. But generally, too much emphasis falls on technical expertise and too little on what's actually funny. They've previously had Fringe hits with the hyper-energetic farce A Serious Play About World War II and The Starship Osiris, which had some cult success. But Genius is a step backwards,.
Review date: 15 Mar 2020
Reviewed by: Steve Bennett
Reviewed at: Vault Festival
Recent Reviews
What do you think?