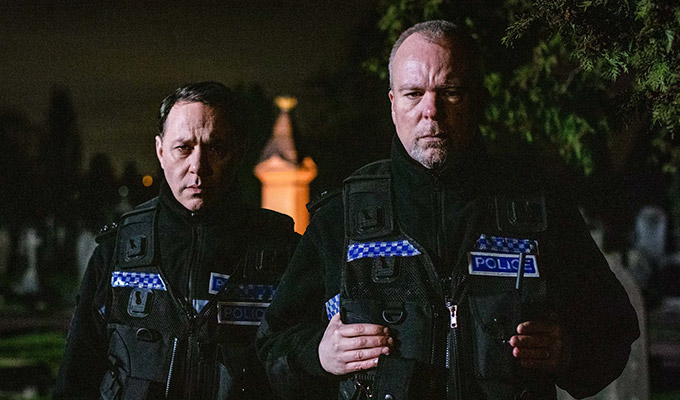 Inside No 9: The Stakeout
The fifth series of Inside No 9 goes out on a high tonight – though that's a position it's rarely left. No wonder two more seasons have been ordered already.
This episode, The Stakeout, is a claustrophobic two-hander, with Steve Pemberton and Reece Shearsmith eschewing guest stars and spending the entire 30 minutes within the confines of a police car, out on a lookout job in a creepy graveyard.
While they kill time with silly games and riddles, it's also clear that something is amiss. The last officer partnered with PC Thompson (Pemberton) came to a grisly end and vital forensic evidence went missing. Then his new colleague, PCSO Varney (Shearsmith) starts asking some awkward questions about what went wrong.
As well as playing to the duo's love of sinister mysteries, this is one of those episodes that spins on a twist – though the opening scene suggests what might be afoot. But the big reveal, which has an extra air of topicality given other recent TV shows, is likely to have you scuttling for the 'replay' button to spot all the clues you missed.
Of course, nothing more can be disclosed about the story, but it proves that more than 30 wildly different episodes into Inside No 9, the duo are still full of creative, compelling ideas, masterfully told.
• Inside No 9: The Stakeout is on BBC Two at 9pm tonight.
Review date: 9 Mar 2020
Reviewed by: Steve Bennett
Recent Reviews
What do you think?