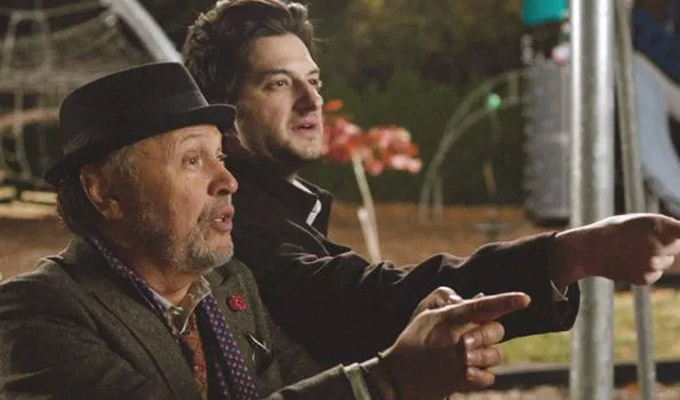 Standing Up, Falling Down
Films about stand-ups tend to focus on the unsuccessful – mindful of the difficulty, perhaps, of recreating those lightning-in-a-bottle moments of the best live comedy.
Standing Up, Falling Down certainly fits into that category, with its central character a struggling wannabe. But the hilarity and humanity of the film deliver a redemptive turnaround that can't help but impact on the protagonist's act; the burgeoning promise of his new approach a tiny but reflective part of his broader resurgence.
Ben Schwartz (Parks and Recreation's Jean Ralphio) is Scott, a 34-year-old open spot returning home to his parents' home in Long Island after failing to cut it in Los Angeles. His gag-based, impersonal style betrays the fact that his life is unfulfilled and pedestrian.
His indulgent mother (Debra Monk) still acts like the sun shines out of his backside but nudges him towards becoming a postman. His father (Kevin Dunn), whom he hurt by shunning the family business, is distant and tells him to quit his dream, knuckle down and find a proper job. Then there's Becky (Grace Gummer), the girl he unceremoniously dumped when he skipped town to make his name, now married to a square-jawed, straight-arrow lawyer, and Scott's obsession now he's back.
So far, so reflective of the experiences of many failing artists. But in Scott's relationship with his younger sister Megan (Grace Gummer), in which the pair score petty points off each with wit, feeling and needle, we glimpse both his and the film's potential. There's a credibility to the situation and the dialogue, which is nevertheless punctuated with spiky, humorous verve.
However, what Scott really doesn't know he needed is the Falstaffian figure of Marty (Billy Crystal). On the one hand, he's the dermatologist Scott engages to treat his stress-induced skin condition. But writer Peter Hoare and director Matt Ratner contrive a series of ongoing encounters between the two that forges a friendship built on loss, regret and mutual support, which soon seems like a logical meshing, a way in which two kindred souls can 'unfuck' their lives together.
With two late wives, an estranged son and daughter whom he barely sees, not to mention a former lifestyle he refers to only as 'the Beast', Marty is clearly just clinging on to existence by his fingernails, a lonely but loud, irrepressible barfly.
Still, he's wise, after a fashion, and becomes Scott's drinking buddy, stand-in dad, cautionary tale and stand-up mentor, urging him to talk openly about his shitty life on stage. Typically, Marty doesn't actually manage to make it to any of Scott's gigs. But he's absolutely there in wry spirit.
With his dermatological pun-based Twitter account, Fedora hat and ostentatious Cadillac, Marty might have been a mere arsehole parody in less assured hands. But Crystal is on tremendous form here, imbuing the character with just enough sentimentality from Hoare's balanced lines, making you pity and empathise with him, even as his irrepressible roguishness delivers plenty of laugh-out-loud moments. He's no magic, click-of-the-fingers genie either, summoned out of the bottom of Scott's shot glass. Marty is fully rounded enough to command a film of his own. And even as their friendship develops, there are ongoing bumps in the road.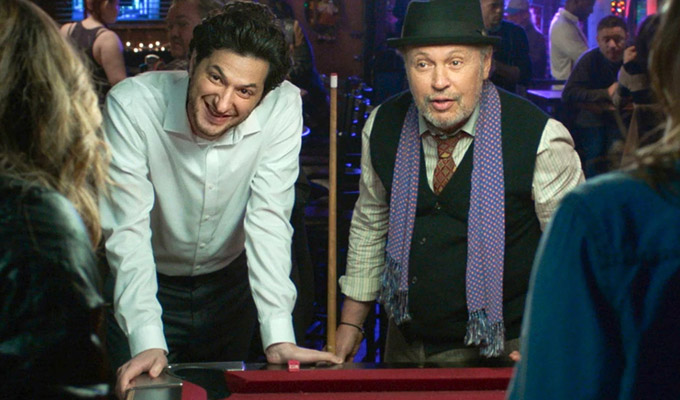 The term 'chemistry' is bandied about too liberally with regard to double-acts. Yet Standing Up, Falling Down showcases the real deal, with the pair's back-and-forth efforts to amuse the other making them great company. And crucially, they enrich the lives of others, even as hangovers and the cold, morning light of reality kick in.
Best known in the UK for the brattish Jean Ralphio, Schwartz brings a knowing depth to Scott's sense of entitlement and insecurity, impressively keeping up with Crystal's quicksilver banter.
The supporting cast is excellent, particularly the sardonic Gummer. But there are strong turns from David Castaneda as her boyfriend, as likeable as everyone says he is. And John Behlmann as Becky's husband, affording his character, suspicious of his wife's loser ex, real pathos in just a couple of scenes.
The reawakened relationship between Becky and Scott can't hope to compete with what the comic has with Marty. And it's perhaps the weakest, most generic aspect of a film that reaches for, and successfully nails a qualified happy ending, while still leaving some threads untied and painful.
A compassionate and affecting study of loss, ageing, regrets and friendship, Standing Up, Falling Down is also a far more organic and funnier comedy than its snappily edited, gag-heavy trailer makes it appear. Well worth catching then, if only for Crystal truly giving a damn and delivering one of his career-best performances.
• Standing Up, Falling Down screens at Cineworld Glasgow today at 4.15pm, as part of the Glasgow Film Festival, and will be available to download from March 30.
Review date: 2 Mar 2020
Reviewed by: Jay Richardson
Recent Reviews
What do you think?