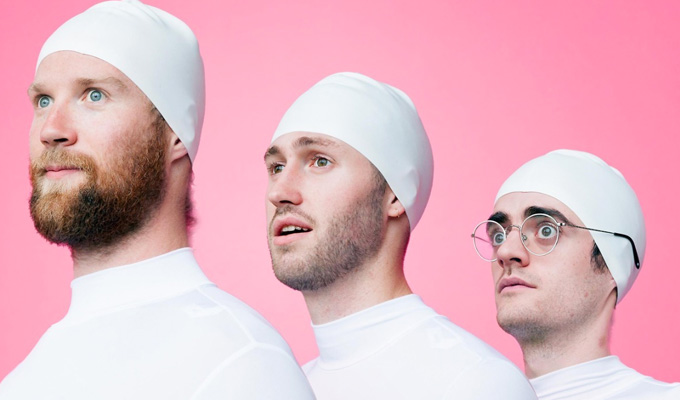 Privates: A Sperm Odyssey
Imagine sperm as a battalion of infantrymen preparing to embark on a do-or-die mission inside dangerous enemy territory, variously worried or gung-ho about what they might encounter on their assignment.
You might already be imagining what Woody Allen served up almost 50 years ago in Everything You Always Wanted To Know About Sex…, but now Luke Rollason, Tom Penn and Christian Brighty present their take on the same idea, stretching that sketch premise into a full hour, including the preamble. And yes, it often does feel like a stretch, even though there are plenty of funny moments.
The set-up is that this is sex education lesson for year 9s with the teachers either playfully teasing the class (us, obviously) into revealing the embarrassing extent of our knowledge – or, in Brighty's case, be struck dumb by his own reluctance to address the sensitive topic.
Before you know it, we're balls-deep into the subject as the trio take us inside the testicles of 'Keith' to meet some of the 300million brave sperm on the eve of the big push.
And what a remarkably diverse array of personalities they are, from wistful old-timer to mummy's boy to commandeering officer-class Brit. They're not exactly complex characters, but with lively, anarchic performances, knockabout chemistry and silly voices, there's a touch of the Goon Show to the whole proceedings.
Much of that is evoked by Penn's squeaky timbre. He's the most mischievous of the lot, slyly baring his flesh and struggling to keep his swimming cap on, in a variant of the old 'fake moustache which isn't quite sticky enough' trope.
Meanwhile, Luke Rollason has more than a touch of Rowan Atkinson about him, with his spindly frame and malleable face, wide eyes and heavy eyebrows cartoonishly exaggerating every emotion.
They've some decent set pieces on a budget – such as Brighty's surprisingly poignant depiction of a sad old condom past its sell-by date – and, unusually for a clown-based show, some proper jokes too.
Not that they're averse to the more familiar pitfall of an indulgent, over-long mime that isn't quite as engaging or funny as it needs be. And ultimately, the premise doesn't sustain the full hour. Things get increasingly action-packed as our plucky heroes advance on their target, but the noisy activity actually becomes less engaging than more traditionally sketchy scenes.
But it's a fun endeavour – and you've got to admire their spunk.
Review date: 17 Feb 2020
Reviewed by: Steve Bennett
Reviewed at: Vault Festival
Recent Reviews
What do you think?