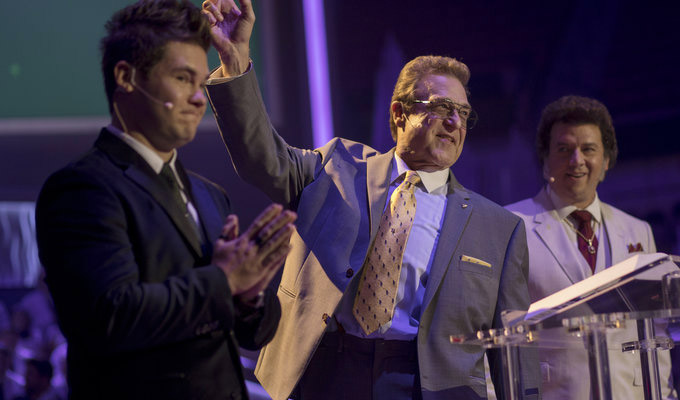 The Righteous Gemstones
When Sky unveiled its new comedy channel to journalists last month, it was not established hits like Curb Your Enthusiasm or Last Week Tonight that they used to whet the appetite, but the Righteous Gemstones, this new comedy from Eastbound & Down creator Danny McBride.
It seems an odd choice because, although entertaining enough, this loud and lavish comedy doesn't have that extra touch that's likely to make it anyone's favourite programmes.
There are scenes of comic excess as we chart the amoral lives of a dysfunctional family of evangelical charlatans who made a fortune from preaching what they definitely don't practise, but the largely crass characters are rather too one-dimensional in their awfulness to care about.
McBride stars as Jesse Gemstone, the eldest son of the televangelist dynasty led by patriarch Dr Eli Gemstone, an always-welcome John Goodman. Born into wealth, Jesse is a prick of the highest order, a character it's hard to feel sympathy for. His sibling rival Kelvin (Adam Devine) is equally spoiled, and with little sense of purpose, being the spare to the heir, while Edi Patterson has a more empathetic role as Judy Gemstone, the smartest of the brood but sidelined because she's a woman.
There are a few satirical digs at the source of their wealth (a sign on their sprawling, palatial compound reads: 'Blessed are the poor in spirit, for theirs is the kingdom of heaven. No trespassing'). But any swipes about the hypocrisy is largely kept in the background, to leave a show about rich people behaving badly. And when we've got a wealthy, crass, sexist, ignorant, spoiled, bullying, slob of a man-child in the White House do we really need it in our fiction too?
The plot of episode one is driven by hapless criminals blackmailing Jesse over a video that shows him at a sex-and-drugs party (one sight gag has him briefing his cronies in front of a big screen as a naked penis is projected on to his forehead) while an unremarkable subplot has the bullying Gemstones taking over the turf of some smaller ministries.
It's rarely subtle, but the Righteous Gemstones is entertaining in a sprawling, soap-opera way, and the script is not bereft of nice lines. Yet it also never fully makes us care for these characters, nor is consistently funny enough for that not to matter.
• The Righteous Gemstones is on Sky Comedy at 9pm tonight.
Review date: 5 Feb 2020
Reviewed by: Steve Bennett
Recent Reviews
What do you think?