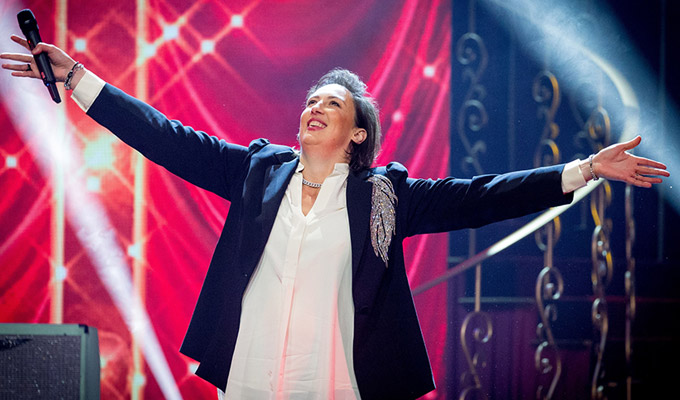 Miranda: My Such Fun Celebration
Like a middle-class Mrs Brown's Boys, Miranda Hart's self-titled sitcom is usually considered a love-it-or-hate-it affair. And this ten-year Such Fun Celebration is only likely to entrench opinions.
For those few still on the fence about the amenable if old-fashioned comedy, this exercise in self-indulgent backslapping and smug, what I like to call, in-jokes will probably be the thing that tips you into the 'anti-' camp.
If you haven't spent the past decade trilling 'such fun!' and galloping like horses, you may detect a feeling of forced fun about the whole proceedings, from the McFly opening to the core cast 'mum-dancing' to Carly Rae Jepsen.
Maybe if you pick up on every reference and understand the relevance of every out-of-context pratfall in the clip montages, it will mean more. The adoring fans who packed the London Palladium certainly lap it all up, but for me this celebration feels more like a cult I'm not part of.
Reunited on stage, the cast utter press-junket banalities about how wonderful it was to work together and what larks it all was. You can't doubt their sincerity – a genuine friendship and camaraderie is evident as they revel in each other's company – but don't expect more than platitudes. 'Showbiz exclusive!' gushes Hart nodding towards Patricia Hodge. 'If anyone was going to laugh first it's this one.'
Like the sitcom itself, many of the jokes refer to Hart's 6ft 1in frame and the repetition of catchphrases. The fact Hart has funny bones and the general bonhomie of the ensemble pushing weak lines over the line.Notably, the funniest story was submitted by a fan after producers sought #MirandaMoments on Twitter, hoping to establish a link between everyday embarrassments and the sitcom.
For the makers of this celebration certainly think Miranda was more influential than just 20 silly half-hour comedy episodes. Many new terms coined in the past decade, for example, are considered as a way the language has 'got more Tilly'. Really?
While Miranda's female-led cast and crew is certainly admirable, and another crack in the glass ceiling, the celebration almost gives the impression that Hart was the first woman ever to have come up with the idea of comedy.
She 'knocked down all the walls that we thought existed around the way a woman should be,' apparently – even if gallivanting stupidly was certainly in French & Saunders' repertoire, and others before them, too.
The celebration also pushes the idea that Miranda, the sitcom, can give succour to the troubled, with clips of fans describing how they found comfort and connections in the series and its positive 'be yourself whoever you are' spirit – especially outsiders who saw themselves in the central character. 'So many people love Miranda which means there's the possibility that so many people could love me or anybody else who's a bit different,' says one.
While it's wonderful that people do find a way to better mental wellbeing through comedy – and Hart herself gets a bit teary at learning what positive effect her work has had on people – is it churlish and cynical to feel that it's inclusion here seems mawkish and self-aggrandising, the BBC slapping itself on the back?
But such criticism will not dent die-hard fans' devotion. This show is for them – and there are plenty of them – but no one else.
• Miranda: My Such Fun Celebration is on BBC One at 5.45pm today.
Review date: 1 Jan 2020
Reviewed by: Steve Bennett
Recent Reviews
What do you think?