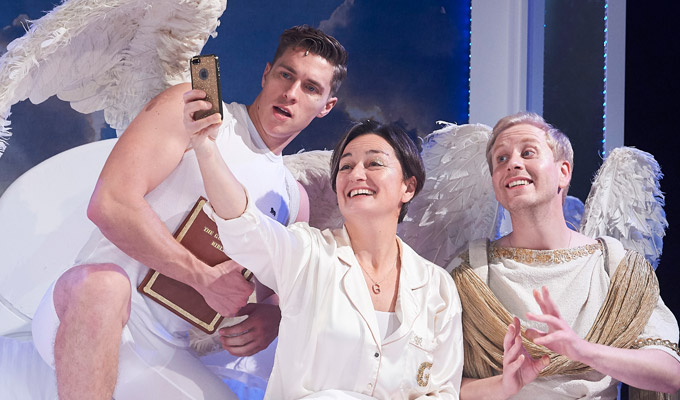 Act Of God, with Zoe Lyons
In the beginning was the Twitter account, TheTweetofGod.
That became a book and then a Broadway comedy, Act Of God, with the Almighty coming to Earth to lay down some new commandments by taking the corporeal form of sitcom deities Jim Parsons from Big Bang Theory and Sean Hayes from Will & Grace.
Now it arrives in London with stand-up Zoe Lyons taking the role in the less salubrious environs of the Vaults Theatre in the railway arches beneath London's Waterloo station. The grimier environment, unworthy of her divine majesty, does not go without comment.
For Lyons is an imperious God, at least some of the time. She's also a jaded God, a chatty God, an impatient God – but primarily an unpredictable God. It's a little hard to know exactly where she is coming from, but that – like so much else in the world – can surely be ascribed to her moving in mysterious ways.
Similarly, the play, by David Javerbaum, doesn't quite settle on what it should be either.
Mainly it sets out to mocking the inconsistencies of the Bible: the plot holes in the likes of the Adam & Eve and Noah's Ark stories, and the way humans so often use the Good Book to justify bigotries that seem to go against the Holy Gist of tolerance and love.
This is the stuff of a hundred stand-up routines, and seems tame by such standards. A casual comedy-goer might find them fresher, while the very devout might find it more sacrilegious – even the fact He has chosen the body of a sarcastic lesbian for his message – but the script doesn't rock the boat too aggressively.
Similarly, the flamboyant cabaret vibe, provided largely by the angels, doesn't reach full bloom. Tom Bowen as Gabriel, gives us chapter-and-verse from the Bible but mainly exists to show his heavenly body. While as Michael, Matt Tedford – best known for his Margaret Thatcher-as-showbiz-diva act – offers a bit more camp, cynical commentary, eventually tipping into sedition, but his sparkle is underused.
Similarly, Lyons is rather too reasonable as the Almighty, the audience largely having to take it on trust that she has 'wrath-management issues'. Her Old Testament psychopathy is largely behind her now, even as she reminiscences about those heady days like an ageing Hollywood diva on the chat show circuit. And when it comes to her reaction to the state of humanity, she's more disappointed than angry…
Lyons carries the full weight of the show for its 90 minutes – and considering she's a stand-up, she shows range in being more compelling in the more serious moments than she sometimes is in the comic ones. There's a subtext, occasionally coming to the fore, of what it means for God to have made humans in His image – and us to have made Him in ours, with all the flaws that entails.
But such sombre philosophical notions are largely kept at a distance. 'Let it be light' is the watchword, and the show tootles along with an air of generally amiable scoffing, with little variation. A dusting of delightfully wry, knowing lines help make its points – including a few topical gags as the US script is adapted for UK audiences – even though those points are largely familiar.
Act Of God is not an Almighty success. But it is a gently satirical and moderately entertaining, poke at the follies of religion, as ultimately inoffensive as your average Songs Of Praise.
• Act Of God runs at the Vaults until January 12.
Review date: 2 Dec 2019
Reviewed by: Steve Bennett
Reviewed at: Vault
Recent Reviews
What do you think?