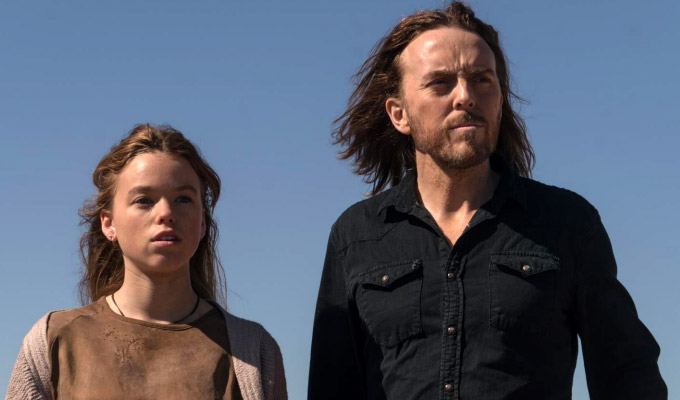 Upright
Tim Minchin largely, but not entirely, eschews the laughs in this odd-couple road-trip drama, which boasts two intriguing characters with murky back stories.
The comedian, who also co-wrote the series, plays Lucky Flynn – a washed-up musician, driving the thousands of miles from Sydney to Perth to reconcile with his dying mother.
He has his old upright piano in tow, for what precise reason we're not initially sure, but it surely may help the rapprochement. For he has somehow been ostracised by his family – inconclusive glimpses of furious rows in flashback tell us that – so is distracted, almost haunted, behind the wheel.
That means he literally runs into Meg, a very spiky teen improbably driving her own ute on the endless desert highway. Guilt-ridden – or too spineless to stand up to her surly demands – he drives her to hospital, where he's assumed to be her father.
Generation is not the only gap between them – even if she affects a maturity for her age and he doesn't cope well with being a grown-up. She likes rap, he tells a story about ELO; she parrots an 'everything happens for a reason' mantra (even though it's not the most comfortable fit with her generally nihilistic persona) he is the rationalist who figures that million-to-one occurrences happen thousands of times every day. Empiricism is never far from Minchin.
While this is the multi-hyphenate comedian's show, Milly Allcock steals it. In what's sure to be a breakthrough role, his newcomer well captures Meg's screw-the-world spirit: grouchy, mischievous, rebellious, selfish, sweary and prickly, she instantly takes control where ineffective Lucky can't.
It is a weird relationship, but that's the very point, certainly intriguing enough to hold the attention – even if some of the mysteries of the pairs' back stories seem a little overplayed. And there's also something the dramatic, mysterious and unforgiving beauty of the Australian Outback – lovingly shot here – that suits these scarred creations.
There are occasional dark swirls of mordant wit in the opening episode, such as the intervention of the the town drunk, while the script and performances drop hints that the duo will surely come to tolerate each other – even begrudgingly like each other – as the story arc dictates. Upright isn't quite so clear-cut in its direction as that, but there's plenty of pleasure in its quirky ambiguity.
• Upright starts at 10pm tonight on Sky Atlantic. All episodes will then be available to stream via Now TV.
Review date: 28 Nov 2019
Reviewed by: Steve Bennett
Recent Reviews
What do you think?