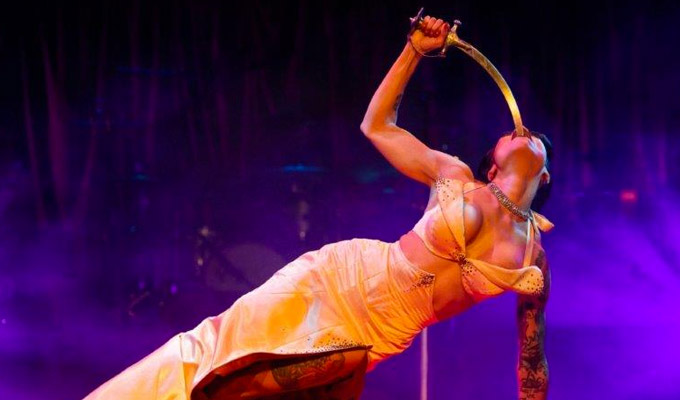 La Clique in Leicester Square
For Londoners, it's become as much a signal that Christmas is approaching as the John Lewis ad – the appearance of the wooden Spiegeltent in Leicester Square and its season of decadently louche cabaret.
This year, after more than a decade of successful imitators, the original La Clique struts back into the venue, reinvigorating the licentious speakeasy for 'sinners, boozers and fornicators' with an injection of new talent and imaginative takes on old cabaret routines. And with all the seductive swagger regulars have come to expect.
Under this refresh, the only old favourite you'll see is the celebrated Bath Boy aerial act, in which an acrobatic hunk swoops gymnastically in and out of the water on two suspended ropes. Jamie Swan has taken over the stylish routine initially made famous by David O'Mer.
Baring his sinewy physique is entirely in keeping with the sexually-charged atmosphere set up by mistress of ceremonies Bernie Dieter, with her husky Germanic tones and playfully predatory nature. Commanding obedience, she scours the seats around the central stage for prey, reaching a comic peak when she recruits a phalanx of slaves to caress her, then carry her back to her rightful place centre stage. Previously known for hosting Underbelly's Little Death Club, she also gets to show off her impressive pipes, belting out a Rocky-Horror style number with punchy melodrama.
Music is the glorious grouting that holds this cavalcade of varieties together, with a slick band, led by Le Clique's impresario David Bates, who mugs away amusingly behind the keyboard, and fronted by the sassy and sultry Kelly Wolfgramm. Their style is usually upbeat jazzy soul, but a standout is a country-infused version of Kirsty McColl's There's A Guy Works Down The Chip Shop Swears He's Elvis that works surprisingly well.
The line-up of 'punks freaks and weirdos' proper kicks off in relatively restrained style, with gentleman juggler Florian Brookes, balancing champagne flutes in gravity-defying edifices. Later, another couple of old carnival forms are given a new spin by Heather Holliday. Her sword-swallowing is impressive, even if you may have to watch through your fingers. However, her fire-eating, neat as it is, doesn't quite seem spectacular enough to close an evening so high on adrenaline.
On that front, Charlie Wheeller does an awe-inspiring routine from within a giant hoop known as a Cyr Wheel, one of several acrobatic spectaculars of the night.
The prevailing sexy tone is heightened by David Pereira unveils a preternaturally muscled torso that could have been chiselled by Michelango in a gymnastic routine based around a shopping trolley. But his tour-de-force is a strangely mesmerising – and surprisingly funny – full-frontal routine based around shaving his body. The best a man can get, indeed.
And 'for the dads', aerialists Zoe Marshall and Lydia Norman perform a sensuous 'two girls, one hoop' routine suspended above the stage; the former returning later for another jaw-dropping routine, suspended by her hair. Guess it shows she's been using shampoo that strengthens as well as shines…
It's a fantastic line-up that proves La Clique is on fleek. And while each arresting turn is suitably impressive, it's the air of rakish hedonism shot through the whole production, from the music to the lighting design, that makes this such a distinctive night out.
Plus there's a political message worthy of the days of Weimar cabaret, should you care for it. 'We're told difference is something to be afraid of,' Dieter says. 'Here at La Clique we fucking celebrate it.' Amen, sister.
• La Clique runs until January 4. Tickets
Review date: 15 Nov 2019
Reviewed by: Steve Bennett
Recent Reviews
What do you think?