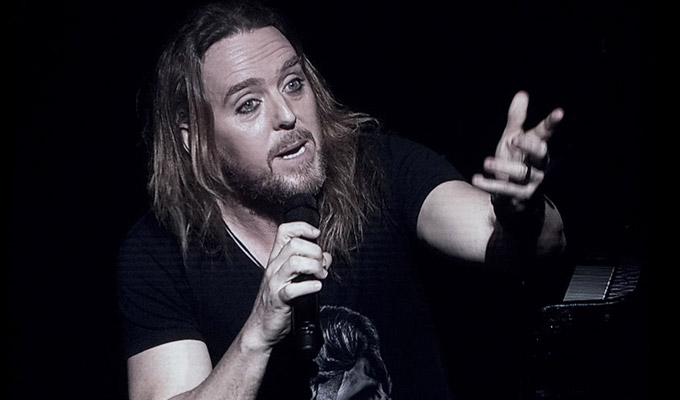 Tim Minchin: Back
It's hard to believe that it's been eight years since Tim Minchin last toured the UK… but it's been a busy four-fifths of a decade, following up Matilda by scoring a Groundhog Day musical and directing a $90million animated movie – which Dreamworks callously axed three-quarters of the way through.
No wonder he says, joking-not-joking, that he was 'misdiagnosed' as a comedian when he first burst on to the scene. He's a man of many talents, many of which are on proud display in Back, and certainly capable of eliciting many emotions beyond laughter.
His experiences of being chewed out by Hollywood left him 'mopey', as he describes his mental condition in a rare moment of understatement. The wasted effort by himself and his huge team, not to mention the repeated family upheaval, clearly took its toll, stripping him of the one thing that drove all his endeavours: enthusiasm.
New songs unveiled in this show – including the simultaneously sad and angry Leaving LA – have a more bittersweet, mournful tone. Between the songs, he opens up about how all the trappings of his success are just a backdrop for his troubles, not a panacea to cure them.
That said, the tone is more often playful, and he claims the favourite track he's ever written is the exuberant Cheese, an eight-and-a-half-minute 'yippee!' in musical form, singing the praises of the milk-based product he loves so much, even if it doesn't love him back.
With a back catalogue containing such bangers as this to draw on, any Minchin gig is guaranteed entertaining. Tonight we get the likes Prejudice, the banned-by-ITV Woody Allen Jesus, If I Didn't Have You, Thank You God,F Sharp, and Rock And Roll Nerd – during which the pared-down staging suddenly explodes into a bigger production befitting his big, ambitious songs.
Being a musical comedian with such an impressive back catalogue is a double-edged sword (or 's-word' as one of his most cheekily tortuous rhymes would have it). We want to hear the hits – some of which have been given new arrangements for this tour – but they can never have the impact of hearing his exquisite songsfor the first time. People cheer set-ups, already aware of the misdirection within.
So the gig lives up to its billing as a night of 'old songs, new songs and fuck you songs', in one case quite literally as he takes the gleeful but angry foulmouthery that defined his notorious Pope Song and sprays similar contempt in all directions. Trump supporters and the rich are expected targets, less so are 'the masses' for dumbing down.
There's even some blue-on-blue fire as he turns on the progressives in his own team, questioning how we are ever going to build a loving and tolerant society while shutting down anyone who doesn't conform to 'an ever-shrinking notion of acceptability'.
While Minchin's rock-star sensibilities are bold and brash, his questing, rational mind pairs that with nuance and honesty like this. Add the intricate and witty lyrical talents of this barefooted hipster Dr Seuss and you have a very potent combination of passion, polemic and entertainment.
Proving he can do beauty as deftly as silly, Minchin's set ends with an encore of ever-increasing poignancy, from Matilda's optimistuc When I Grow Up, to the heartfelt ballad Carry You from his forthcoming Sky Atlantic series Upright. When the band dedicate the last song to Greg Weaver, Minchin's tour manager who died just after the Australian leg of this show, it brings a lump to the throat and the Eventim Apollo, almost as one, to their feet. It's great to have him back.
Review date: 9 Nov 2019
Reviewed by: Steve Bennett
Reviewed at: Eventim Apollo
Recent Reviews
What do you think?