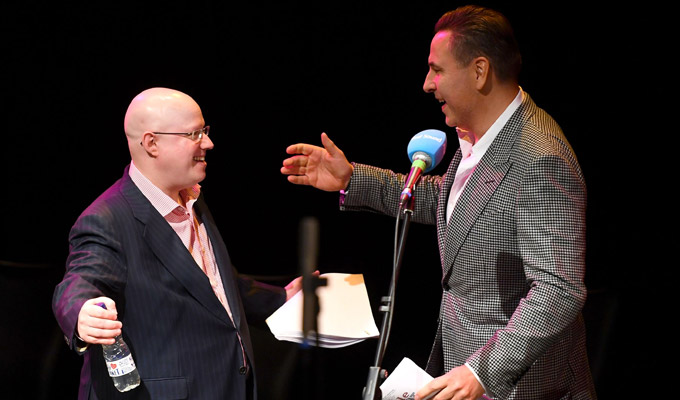 Little Brexit
News that David Walliams and Matt Lucas had reunited after more than a decade sparked mixed reactions – from fans happy that the once all-conquering partnership was returning to those concerned that some elements of their comedy, especially regarding race, would be more troublesome than ever.
No concerns about 'browning up' on radio, of course, as they returned to the medium that gave them their first break, and with some of the original co-stars, including Ruth Jones and Anthony Head.
Brexit was the reason for the comeback, though no one can have failed to notice we haven't actually Brexited today.
Although the show was never actively political, Vicky Pollard was blasted for demonising the working classes as dim and feckless. So the aim of this special to see how the politics affected the 'ordinary' people of Britain, as Tom Baker's mellifluous tones explained over the familiar portentous music: 'Brexit what be it? Who do they and why?' According to his alternative facts, 'every man woman and child voted to leave, it united the country like never before.'
'No but yeah but no' is pretty much how the Brexit process has panned out, of course, so it's apt that the opening sketch went to Pollard to explain it with approximately the same clarity of Laura Kuenssberg.
Then to the charity shop, where Lou and Andy come across boxes of David Cameron's autobiography. There were a couple of amusing gags en route, though the payoff 'we've run out of bog roll' is beyond weak.
Elsewhere in the half-hour, Brexit said 'no', Dennis Waterman wanted to 'write the theme tune, sing the theme tune' to a drama about Brexit; Dafydd protested he voted Leave so no immigrant Europeans could stop him being the only gay in the village. All the catchphrases, slightly tweaked. Racist old dear Maggie vomited at a foreign name – never the most nuanced of ideas – and now has the same reaction to Remainers.
There's not much new, but a pitch for Brexit: The Board Game with its complex, apparently unwinnable, rules was a cheery satire on the actual process. Another more direct commentary on the state of things came when the flirtations between political aide Sebastian and Head's PM turned into a more direct mockery of Boris Johnson. Apparently 'backstop' could be seen as a double entendre - who knew?
The script was a mix of cheap jokes like this and more unexpected ones that were genuinely amusing, especially when delivered with the undeniable flair Lucas and Walliams bring to their creations
But with all the characters feeling so familiar, Little Brexit was more an exercise in happy nostalgia than new ideas. Very much like Brexit itself, then.
Little Brexit is available on BBC Sounds here.
Review date: 31 Oct 2019
Reviewed by: Steve Bennett
Recent Reviews
What do you think?