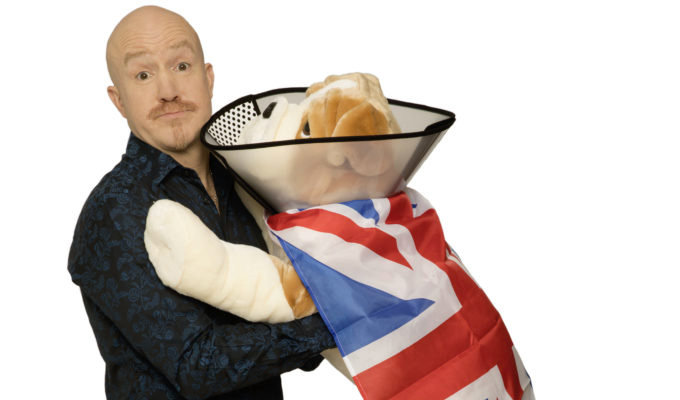 Andy Parsons: Healing The Nation
In such a febrile time in Westminster as now, political comedians should shine. Yet Andy Parsons somehow conspires to be… well, rather boring.
Maybe it's because the aim implicit in the show's title to walk a line of neutrality. But it's mainly down to a show that's heavy on exposition which only infrequently pays off with a strong punchline. Instead, it's mostly a wry commentary on the state of the nation offering a raised eyebrow far more often than a belly-laugh.
Take the topic of badger-culling – long-vanished from headlines, but which the former Mock The Week regular cites as a typical topic that has divided the nation.
He explains a lot about the conflicting science about whether badgers really spread tuberculosis and the inadequate way we currently test for the disease. Informative if not very interesting, and all in the name of building up a flippant reference to campaigner Brian May's past with Queen and the fact he looks a bit like a badger himself. It's mildly amusing, but not worth the effort – which could be a tag line for the show.
As expected, there's quite a lot of politics, but its superficiality is likely to disappoint Westminster geeks, while being a turn-off for anyone already feeling battered by wall-to-wall Brexit coverage.
Nor is there much acknowledgement of the pace of change. Jokes about Jeremy Hunt's lacklustre Tory leadership campaign might only be a few months old, but they already feel irrelevant.
There is some suggestion that beneath it all Britain is united by a national character defined by modest self-deprecation, but the archetype feels half-hearted, even fanciful, against a backdrop of a country that's actually riven by fiercely vocal factions. A sardonic quip about Boris does not seem fit for the purpose of taking on the omnishambles on his watch.
Despite Parsons's intention to unite the audience, his left-leaning views peek through, but again they are quite mildly expressed. He gets applause for imagining an ironic fate for Piers Morgan, but it feels like back-of-the-envelope writing on a subject guaranteed to hit home, rather than anything more considered. It's not the only time he gets a reaction of polite support rather than laughter, either
For all the sub-newspaper-columnist politics, there are flicks of his real life that hit home harder. The campaign against loneliness he was involved with is quietly poignant, and the glimpses of his home life, with two kids, are far more interesting than limp jokes against Johnson or Labour's warring factions. Yet we never quite get enough of this before its back to the tepid topical humour.
Amid everything, there's a strong 20 minutes here; but it's dragged out over two only mildly engaging hours of entirely unessential comedy.
Review date: 26 Oct 2019
Reviewed by: Steve Bennett
Reviewed at: Southend Palace Theatre
Recent Reviews
What do you think?