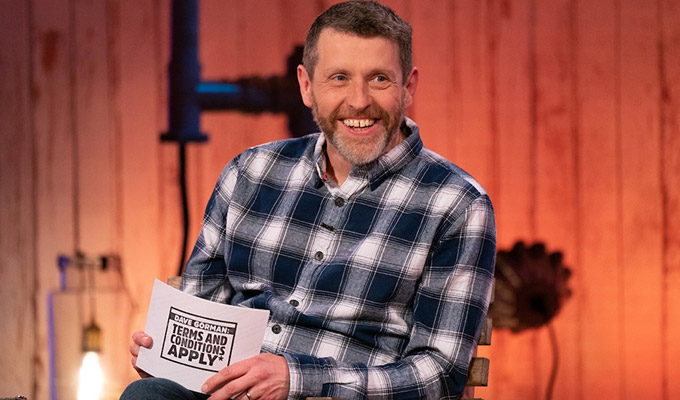 Dave Gorman: Terms And Conditions Apply
Although bringing his delightful Modern Life Is Goodish to an end disappointed fans, few would have begrudged Dave Gorman his decision after he explained the toll the immense workload took to create what amounted to seven Edinburgh-length shows every year.
Now he's back with its successor, Terms And Conditions Apply, which mines similar ground. But the fact it took a lot less effort is unfortunately apparent.
The gems uncovered from the nether regions of the internet are as comically baffling as always, and Gorman again identifies some hitherto unnoticed media tropes. But rather than incorporating them into a cunning narrative with playful stunts, as he did in Goodish, here they are left to the panel show format.
Episodes one's guests – Phil Wang, Sara Barron and an always good value Richard Osman – bring the sarcastic commentary, but their off-the-cuff quips are never going to match more carefully considered scripts.
And an hour is definitely far too long for most panel shows, this one included. Do we really need 12 minutes on the obscure queries brands consider 'frequently asked questions?'
The increasing length of such shows never feels driven by the need to make the best programme; rather by broadcasters' commercial imperative to get the most airtime from each recording – and have the most ads within a show, not just before and after.
What saves Terms And Conditions Apply, however, is the raw material that Gorman has found to project on to the giant PowerPoint screen that has come to define his comedy. There's a genuinely terrifying infomercial for a shovel – of all things – and the BBC One daytime show Money For Nothing is brilliantly reduced to a recurring trend among its upcyclers.
But the comments from his guests too often seem like padding, rather than enhancing the preposterous things Gorman has so irreverently brought to their attention. It's good to have him back, but the format's a diluted version of what he does best.
• Dave Gorman: Terms And Conditions Apply starts on Dave at 10pm tonight.
Review date: 21 Oct 2019
Reviewed by:
Recent Reviews
What do you think?