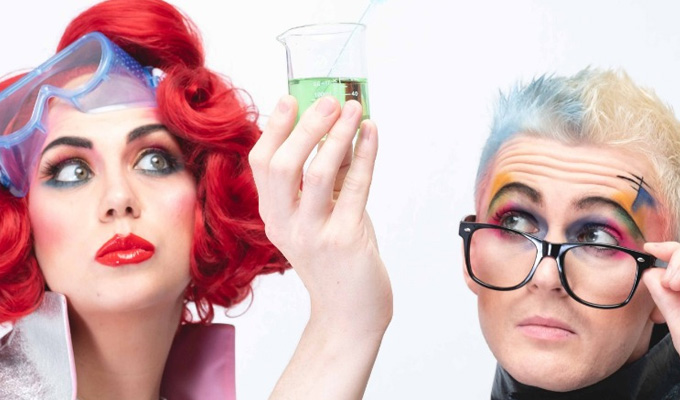 Frisky & Mannish: Pop Lab
It is a quarter-filled theatre in Leicester on a school night, but Frisky and Mannish are performing like it's a sold-out London Palladium.
In their first tour in five years, the vibrant duo are pure showbiz, with an extra helping of camp, as they belt out their musical mashups with an irresistible verb. One familiar hit after another is given a witty reinterpretation in the spirit of exuberant celebration, making a playful, high-octane show that cheers the soul.
Anyone wanting political insight or a searing probe into the human condition is told in no uncertain terms: 'It's not what we do.' As if you couldn't tell from the outfits: Frisky (Laura Cocoran), the sometimes schoolma'amish diva, sports dramatic scarlet hair, while Mannish (Matthew Floyd Jones), her waspish sidekick, has donned bling-encrusted safety goggles that make him look like the Crazy Frog crashed his motorbike into a Swarovski store.
The goggles are clearly required because PopLab is, however much evidence there is to the contrary, a serious research establishment. Or at least a flimsy theme – which the duo tacitly acknowledge – to allow them to co-opt scientific jargon, most notably presenting mash-ups as if they were genetic hybrids. Fusing Cher and Aerosmith to make Cherosmith, for example.
They also practise paleontology to uncover the roots of rock dinosaurs, and try to track down patient zero of the tropical house virus plaguing the pop world. Turns out it's Margarita Pracatan (their references are not all for the kids).
Even if they don't actually know much about a science book, Frisky & Mannish are Nobel-winners when it comes to knowing about the potency of cheap music and corny puns when covalently bonded to a barnstorming performance.
They are both great musicians, too, with Frisky boasting a power-packed voice of impressive range. Early on, they flaunt their lyrical precision and dexterity with a version of Tom Lehrer's The Elements, suggesting a pop-based Periodic Table from Aretha Franklinium to Jay Zeenium. They have a fan's encyclopaedic love of the genre that allows them to spot and mock clichés, such as the pregnant pauses that 'release built-up sass' like a pressure valve.
Creating comically monstrous musical chimera is their forte, like a more contemporary Bill Bailey. You never knew you wanted to hear Ed Sheeran sing Black Lace until you've heard it, while Rick Astley's Never Gonna Give You Up proves remarkably adaptable to any musical style you'd care to throw at them. Mannish even manages to make his keyboard stand in for the screaming guitars of thrash metal tonight.
Elsewhere, Ariane Grande is distilled to her essence of noise, some classic hits are made more woke, and they explore the fine line between devotion and stalking but neatly done here
This latter is something of a well-worn trope of musical comedy and comes during a minot lull in the second half, but their sheer joie de vivre pushes though, and it's short-lived.
God knows why the theatre was only quarter-full. Why would you stay in when there's this much fun to be had going out?
• Frisky & Mannish are touring until the end of the month. Dates.
Review date: 9 Oct 2019
Reviewed by: Steve Bennett
Reviewed at: Leicester The Y Theatre
Recent Reviews
What do you think?