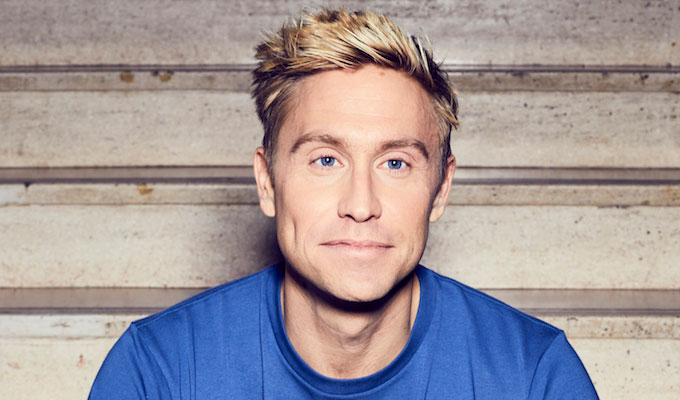 Russell Howard: Respite
In Russell Howard's new show solid observational material is – as usual – elevated by his superb, sustained pace, energy, and physical performance.
Performing again in the round, from the centre of the arena, Howard launches into stories of making TV with his mum, thoughts on 'muggles' ruining comedy via offence-taking, a bit of Boris - and beyond.
His fantastic performance makes decent material shine. Howard's presence and manner are honed art forms, and his pacing is close to perfection. His set is tightly-packed, relentless, accelerating and energetic. But every word is crystal clear. This tightrope between rushing and dragging is rarely so well walked.
Callbacks don't simply surface on a linear conveyor belt, instead being launched from the outset and spun into an ever-expanding web of comic surefires. References within references, wrapped in references, creating a thicket of visual, visceral, relatable comedy.
For all Howard's likeable mainstreamer reputation, an early multi-c-bomb routine and filthy sexual gags aplenty reveal a very welcome edge that - along with his performance - raises quotidian subject matter to wicked heights.
Childhood material is spiced up by a showbiz paedophile act-out. True crime is a vehicle for a callout of hypocritical feminists fancying Ted Bundy, and talk of heatwaves is elevated by the thoroughly memorable image of Howard's nan cooling herself by internally inserting a Calippo ice lolly.
Respite is essentially non-clever comedy, very cleverly done. And it's this fertile breeding ground between the observational, the familial, the smutty and the political that is well-inhabited with Howard's customary act-outs, impressions and brilliant physicality.
He offers some very 'right-on' ideas, from nursery rhymes' inherent sexism to why people resist education on homosexuality. And though at times slightly laboured, these are points well made, heightened by his noteworthy rhythm and elastic, energetic physical presence - which deserves repeated mention.
Admittedly, some moments don't land so well. Criticism of the Football Association's weak stance on racism (despite its powerful, financial might) is certainly valid, and funny. However the act-out involves him being overtly camp to depict the FA's weakness, which leaves the wokeness conflicted.
Another act-out that's as strong as that one is weak is that of a woman attempting to shrug off an influx of unwanted dick pics. It's brilliant, and again inhabits a technique-fusing middle ground displaying all Howard's best wares - physicality, silliness, creative microphone use and a right-on message.
However, he doesn't need to always physically telegraph when he's 'only joking' quite so much. Although helping to visibly convey the tremendous fun he's having on stage, the other purpose of his repeated drops to his knees is to ease a large crowd through moments of black comedy which are all the better for being - at least sometimes - left hanging.
Verbally, Howard's jokes contain no surplus whatever. He largely performs without the nervous gimmicks and ticks so many less assured comics employ. Consequently, his confidence, rhythm and pace emerge.
Sentiment grows towards the end, as the show becomes less crude and more sweet. Howard arrives at his final topics of finding humanity and happiness in little moments, spreading positive news and ultimately creating wonderful deathbed memories.
The show's tone shifts and it slows here, though doesn't drag. Touching on difficult personal moments, perhaps more fleetingly than the audience - thoroughly invested in Howard - would like, an emotional weight is introduced, adding a hint of pathos, that underlies - rather than alters - his persona.
Ultimately, in'Respite, Howard upholds his reputation as an extremely assured, big-hitting comedian. His confidence oozes, without a trace of arrogance. To be simultaneously so rude and yet so likeable is another of his trademark balancing acts that adds the depth needed to truly elevate his brand of good, straightforward comedy.
• Russell Howard: Respite is at Wembley again tonight and Liverpool tomorrow, with further dates in London and Bristol next year. Dates and tickets.
Review date: 4 Oct 2019
Reviewed by: Alex Bruce
Reviewed at: Ovo Arena Wembley
Recent Reviews
What do you think?