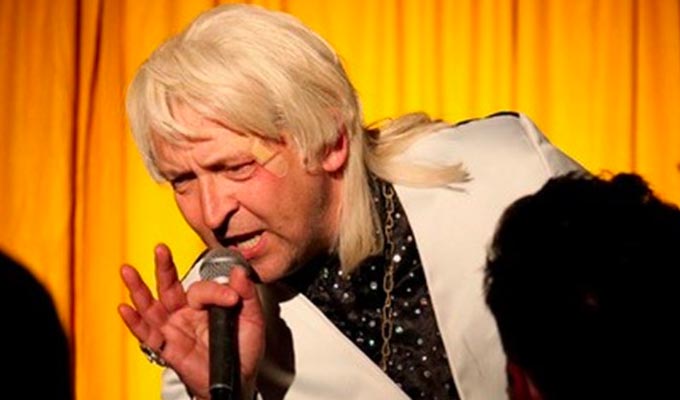 Clinton Baptiste In The Paranormalist Returns
It would probably have taken a real clairvoyant to foresee a tour from Phoenix Nights medium Clinton Baptiste, 18 years after the single episode of the sitcom in which the offensive psychic appeared for less than five minutes.
In that time we've had Marc Wooton's Shirley Ghostman – inspired, like Baptiste, by Derek Acorah's overblown theatrics – and Tom Binns' Ian De Montfort, brilliantly using the real tricks of cold reading to offer a surprise twist to his bad-taste wit.
Baptiste, though, turns out to be the weakest of the parody psychics. There's a thin line between a spoof of a cheesy low-rent entertainer and the real thing, and Alex Lowe – the man behind Baptiste's bouffant – too often finds himself of the wrong side.
That tone was set with support act Stephen Owen, a former policeman pal of Lowe's doing accurate but mostly dated impressions, starting with a David Essex, of all people, with barely perceptible jokes. As a local, he made lots of references to Watford (where Lowe's much funnier alter-ego Barry hails from) to, at best, indifferent titters.
Then the man himself, taking to the stage to portentous voiceover and a smoke machine working overtime, only to undercut the dramatics when he trills a 'hiya' in his high-pitched camp, which soon becomes wearing.
Vague and generic stabs in the dark from the spirit world are exactly as expected, and Baptiste delivers with the likes of 'Is there a John in the room?' But there's nothing beyond the broadest of swipes at the charlatans of this nefarious business.
Lowe gets right in among the crowd, and his free-flowing insults, allegedly at the insistence of those wicked spirits, get plenty of laughs, heightened by the illusion of risk and spotaneity. But they are generic barbs at people's poor dress sense, or suggesting they're nonces. It's the very basic form of MC banter, lines that would work with any audience, rather than actually playing the room.
Recurring gags refer to his alleged sponsorship by a hardware emporium, allowing for a few strained puns, while his evoking of dubious spirits builds to a disappointing climax about passing to the other side himself, an effect very much achieved on the cheap.
A post-script involving celebrities from the other side supposedly suggested by the audience chuck up the expected likes of Jimmy Saville. While others, presumably planted, spark routines about the likes of Fred West, dusting down the bad-taste jokes that did the rounds when his case was actually in the news 25 years ago.
His audience enjoyed it, but the jokes are (mostly) trite and the shtick decidedly one-note. Dispiriting stuff.
Review date: 23 Sep 2019
Reviewed by: Steve Bennett
Reviewed at: Watford Palace
Recent Reviews
What do you think?