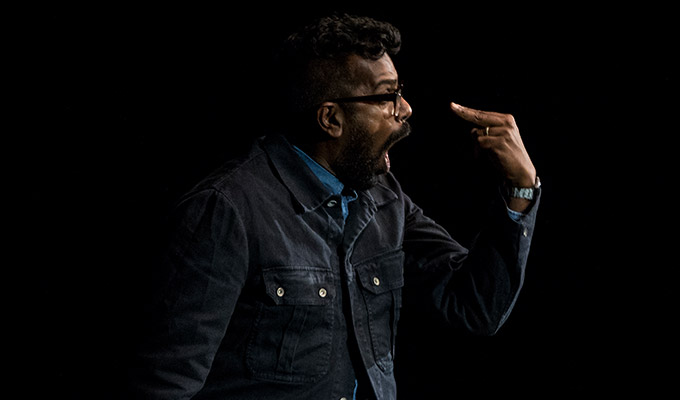 Romesh Ranganathan: The Cynic's Mixtape
Romesh Ranganathan has quickly supplanted Jack Dee as comedy's favourite grouch.
In a few short years, his prickly irascibility has made him ubiquitous on TV. In the past 14 months alone we've seen two series of his Sky One sitcom, two series of his BBC Two travelogue, two series of Judge Romesh, one series of The Ranganathan and his Sky interview series with Rob Beckett, as well as his panel show duties on A League Of Their Own. Plus he's published a book and hosts a hip-hop podcast. Yet still he has enough in his tank for a stand-up tour.
As the title suggests, The Cynic's Mixtape is something of an pick-and-mix compilation of things that get his goat, though he often returns to the theme is that the world is full of pricks who need to be called out on their behaviour. He doesn't exclude his three small children from his shitlist – indeed, familiarity breeds increasing contempt where they're concerned. Nor, crucially, does he let himself off the hook.
While Ranganathan's concessions to likability extend little further than an occasional mischievous chuckle at a rant's end, there's never any doubt that he's a nice guy being abrasive, taking full advantage of the freedom to say things on stage he wouldn't in real life. When he mocks Brighton's hipster, woke pretensions and poor excuse for a beach, for instance, it's with the tone of a piss-taking mate, especially given that he's from nearby Crawley and cut his teeth on the vibrant new act circuit here.
He portrays particular individuals as obnoxious, eliciting huge applause for mocking Piers Morgan, even though calling out such an obvious, deliberate irritant seems easy pickings. But he also realises the selfish traits in everyone, with a terse but accurate analogy of how little inconvenience we are each really prepare to personally endure to save the planet that sustains us.
He likes to put a bit of edge into his topics, taking a sly joy in rolling around the racial insult in a Millwall football chant, just because he has a licence to… as well as taking a pointed dig at how casually even the politically correct might find themselves deploying the slur in a convenient context. He also – like many a comic – wonders whether Michael Jackson's musical brilliance overcomes his abhorrent behaviour. Ranganathan's verdict is inconclusive, but he does get to show off a nifty moonwalk – one of several instances that show for all his aloof drollery, he can turn out a proper physical performance if needs be.
There are self-deprecating jokes about his wonky eye, which is by now as much an essential part of his persona as his equally much-maligned veganism. As a man in his 40s, his fluctuating weight and reduced sex drive are also things to feel bad about, to the extent of reluctantly embracing exercise. He does everything reluctantly, of course, even parenting. He loves his wife and kids but they wind him up.
Closest to home is the frank depiction of a sexual ennui in a long-term relationship, shorn of spontaneity, passion and romance. This is his strongest suit, providing a backbone to the second half which coalesces around his complaints about his wife Leesa spurning his requests for sex. That might sound like the sort of topic an old-school, unreconstructed comic might dabble in, but Ranganathan's account is both credible and aware enough to avoid the pitfalls.
Yet again the biggest joke his himself, especially when re-enacting a hugely embarrassing seduction routine that, you suspect, still makes him blush to recall – in what's probably the funniest routine.
However The Cynic's Mixtape never quite strikes a consistent sense of purpose, nor comes to a dazzling routine that would make it a must-see. Ranganathan's certainly consistently funny, but the show missing that impetus that would convince us he's getting stuff off his chest that he just HAS to share.
A contrived 'what I did in the weekend' from his son's point of view orchestrates a pile-up of callbacks, but it's a fairly mechanical trick. As is his dipping into the old trope of imagining a grime rap based on middle-class concerns. Such moments lend this show the feeling of being just another product from the highly productive Ranganathan Comedy Factory – albeit a quality product with skilled craftsmanship guaranteed to do the job it's designed to: make you laugh.
• Romesh Ranganathan: The Cynic's Mixtape is touring until May. Dates.
Review date: 16 Sep 2019
Reviewed by: Steve Bennett
Reviewed at: Brighton Dome
Recent Reviews
What do you think?