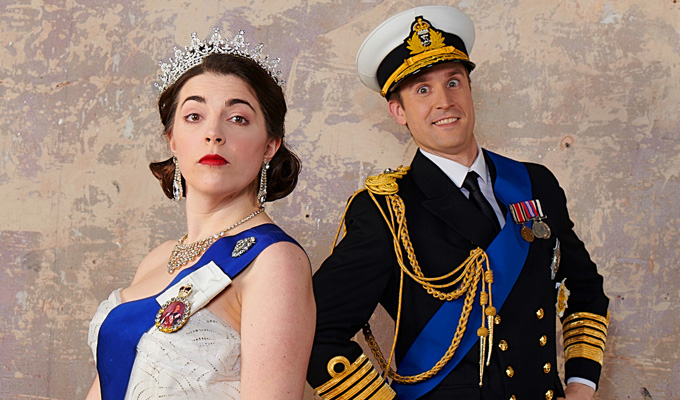 The Crown Dual
This is the pantomime version of The Crown, distilling the first series of Netflix's lavish royal drama into a little over an hour and on a budget that wouldn't cover one of Claire Foy's cardigans.
Comedian Rosie Holt is actor Beth Buckingham, begging her useless agent - and full-time conservatory salesman – Stan Diamond to get her a shot at the role she believes she was born to play: The Queen.
Hence this cheesy two-person show is framed as a way to impress the Hollywood bigwig Diamond may or may not have remembered to invite.
The script is pure hokum, with corny puns, cheap props, silly audience participation and lame anachronisms, with the likes of 'harsh burn' or 'up in your grill' seeming out of their time for 2019, let alone 1952. Writer Daniel Clarkson cut his teeth on kid-focussed shows such as Potted Potter and Potted Panto and hasn't attempted any leap in sophistication as he moves to the adult theatre.
Although director Owen Lewis keeps the energy frenetic, there are times when the momentum drains out of the script. The worst offender is the scene in which Winston Churchill approaches the Throne with a painfully slow theatrically that's a poor man's 'two soups', but often the gag rate lags behind the performance pace.
Yet the show is carried by its winsome, game performers, often breaking the fourth wall. With her malleable face, Holt's knowing glances to the audience make a connection that the Monarch's detached demeanour and haughty vowels cannot. Brendan Murphy, meanwhile, gets to mug and grandstand elaborately, from the irritatingly petulant and melodramatic Prince Philip to the silly stuttering of George VI. It's an old gag, but he does it well – which could be a motto for the whole show.
Highlights include a B-plot involving a lusty Princess Margaret and a Flashheart-like Captain Townsend; a love scene inventively flipped to be from a corgi's point of view, and some creatively cheap props – such as one of those solar-powered lights on a spike you poke into your garden being deployed as the Coronation mace.
It doesn't matter if you've never seen an episode of The Crown, as the broadest knowledge of royal even is enough. Even then this is hardly the stuff of historical rigour.
Ultimately everyone involved is well aware of the foolish absurdity of this venture and lean right into it. As an audience member, you have to do the same – especially if charmingly press-ganged into service to advance the gag-riddled story.
• The Crown Dual is at Wilton's Music Hall until September 14.
Review date: 6 Sep 2019
Reviewed by: Steve Bennett
Reviewed at: Wilton's Music Hall
Recent Reviews
What do you think?