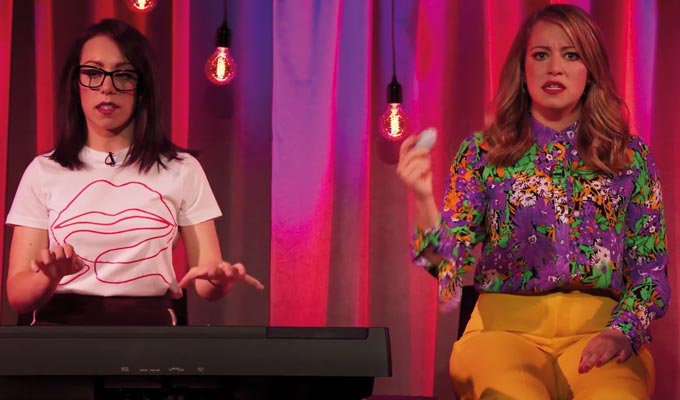 Flo & Joan: Alive On Stage
Flo and Joan seem to be growing in confidence as both performers and writers, year on year. Gone is the slight tweeness that coloured those infamous Nationwide ads and some of the work that went before, and in comes an underplayed swagger.
Sisters Nicola and Rosie Dempsey still often deal in whimsy, as proven by the folk song parody about the lady in the woods – but here it comes with a playfulness and daring, as they tease the audience just how far they will go with their bold, contrived alliteration.
They can even be cynical – with a wedding song offering a sobering reminder of divorce statistics – or slightly dark, discussing how they might assist each other's suicides.
Occasionally there's something of a feminist edge, too, when reacting to online comments or offering a sarcastic comment on Doritos For Ladies, this material obviously owing a debt to Bridget Christie's Bic For Her rant. While some comedians are accused of preaching to the choir, Flo and Joan make a virtue of it, with opening song welcoming everybody, with the many notable exceptions designed to alienate the non-believers.
Despite their assuredness, they still practise a little self-deprecation in a relatable song about drinking too much and another, rather more particular one, about failing to pass a Dunkin Donuts exam, sung in very effective a capella.
Musically the duo are excellent, with catchy melodies underpinning their taut, precise lyrics. Nicola generally sits impassive beyond the keyboard, with the marginally more animated Rosie occasionally contributing percussion – although they do swap sides for one section.
The tongue-twisting lyrics of Carol The Cracker-Packer is probably the best example of their songwriting, and if the rhyme wasn't already enough of an earbug, the pair get the audience to sing along at increasing tempo to drill the words into their brains. This, like much of their work, is rooted in a slightly old-fashioned variety style, yet seems contemporary and fresh.
Things aren't always so good when they're not singing, especially deadpan stand-up style routines. Their description of the TV show I Didn't Realise I Was Pregnant, for instance, is very direct.
But when they play to their strengths of rhythmic precision, they nail it with a fast, witty, piece of crosstalk, made even more effective by swift video editing to match.
Indeed, a few 1970s Top Of The Pops-style visual effects are sparingly deployed to bring the songs to life, making the special more interesting that just pointing several cameras at a stage.
The live show has the occasional gimmick, too, such as the tango for sex robots deploying a computerised voice on an iPad. Do they make it say rude words? Of course… it's exactly what you would do, admit it.
Like many specials now, they include in the final edit an exchange with the audience to give a flavour of the unpredictability of live performance. This one's a cute moment as they realise they'd met the punters before, back when they lived in Canada. With similar positivity, the whole show ends on a tender note to remind viewers that the sibling bond is a strong one, and there's a heart behind any of the more cynical moments.
Flo and Joan: Alive on Stage is available to Amazon Prime subscribers here.
Review date: 29 Aug 2019
Reviewed by: Steve Bennett
Recent Reviews
What do you think?